When Tim and I lived in Michigan, nearly 10 years ago, we often celebrated events with my parents over a TCBY frozen yogurt pie. It split in four ways very nicely, I'm a bit embarrassed to recount, and quickly became a favorite treat. Since it was "frozen yogurt," and everyone knows yogurt is "healthy," we had no trouble convincing ourselves a quarter of a pie was an acceptable portion size.
Some children think they can eat the ENTIRE pie themselves.
However, it didn't take my frugal husband long to calculate the cost per forkful and realize TCBY was making a hefty profit on our festivities.
"I can make an ice cream pie as good as any old frozen yogurt stand," Tim boasted.
Not being ones to stand in the way of ambition and enterprise, we heartily encouraged Tim to head to straight to the store, offering ourselves as willing victims of his culinary creations. Those were mighty fine, if fattening, days and I must say, we've never looked back. Tim has become the ice cream pie expert of the family.
Be sure to leave us a comment regarding your favorite ice cream pie ingredients (see last paragraph).
Breyer's Fried Ice Cream – delectable!
Today he decided to make two pies, no doubt inspired by the clean pantry and the two pie crusts he discovered on the back shelves.
Ingredients for Two Pies
Oreo Pie Crust
Chocolate Graham Cracker Crust
(Our crew strongly prefers the Oreo crust, but they are occasionally difficult to find. The Keebler chocolate crust offers a more subtle chocolate flavor for those not seeking chocolate overload.)
3/4ths container of ice cream per pie
Chocolate Syrup
Assorted chocolates — Reeses Cups and Andes Mints are both delicious. We have found some chocolates are too hard when used in a frozen pie (M&M's, Snickers, etc).
Chocolate Magic Shell (this is a new addition to the recipe)
Whip Cream (optional but makes the pies so pretty)
Sprinkles (crucial if you are working with children)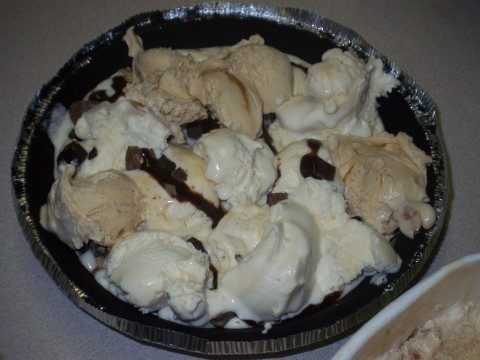 Let ice cream soften.
Apply thin coat of chocolate syrup to the bottom of the pie crust.
Yum. Begin chocolate overload.
Scoop ice cream into pie shell.
Chop chocolates into small pieces and sprinkle liberally over ice cream.
Drizzle chocolate syrup atop ice cream and candy
Repeat another layer of ice cream.
Finish with some combination of Magic Shell, Reddi-Whip and Sprinkles.
Return to freezer until ready to serve.
Dive in, forks in hand.
Sarah is ready with the sprinkles.
How many Duckabush Bloggers does is take to make ice cream pies?
Joshua cleaned the garage in exchange for the largest slice of pie. Was it worth it, Joshua??
I think we might have some future ice cream pie bakers in the family. It's important to pass these meaningful skills down through the generations.
Question
If you were making an ice cream pie (or rather, having Tim and the children prepare a pie FOR you) what type of ice cream and candy fillings would you want? Or maybe you're a caramel fan and would eschew the chocolate syrup altogether. Let us know! We're always on the look out for new ideas.
Kathy
Project 365 – Day 259
Related posts: