This is a post I wrote back in May, that has been simmering in my subconscious. Finally, with Kathy away at camp, it has a chance to see the light of the blogosphere. It is hard to live with a blog-hog, but somehow I manage.

*******************************
It is the weekend before Memorial Day, and I am about to celebrate my fifteenth anniversary with my beloved. Hard to believe that we have been married for so long, and yet in some ways I feel as though we have always been husband and wife. We had hoped to spend four or five days alone in a fancy bed-and-breakfast (well, OK, in our own home) devoid of the scampering feet of our five children. My parents had agreed to take the kids from Wednesday evening through Sunday … I had arranged to take both days off from work — what plans we had! Alas, it was not to be.

'Great' Grandma with Sarah (June, 2003)
My Grandma's death on Tuesday changed all that, and instead of snuggling down with my sweetie, I flew to the east coast to attend my grandmother's funeral. We scurried around finding a rather expensive last-minute airline ticket for me, but a blow was struck for democracy when I arranged an inexpensive rental car and hotel reservation through Hotwire, my favorite source for rental car bargains.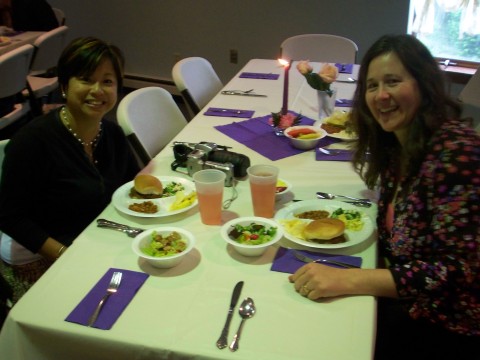 Sister Posie and cousin Kristi, thick as thieves, as always.
One of the defining characteristics of my grandmother was her propensity for bargain-shopping, so it seemed appropriate to get a good deal when attending her funeral. I only wish US Air would have cooperated.

Strange to discover that both cousins Kevin and Kurt are in the Telecom business these days, like me. Makes you want to rush out and buy a cellphone, doesn't it?
I traveled to Baltimore with my parents, and, after crossing into Pennsylvania, we stayed overnight in York. Mom and Dad had a bit of an adventure at their hotel, and so we departed more hurriedly than we had intended, heading for the Harrsiburg area without a single Peppermint Patty to cheer our way. Enjoying a delicious luncheon at my aunt and uncle's home and meeting up with my siblings and my uncle David's family, we arrived at the church a good 90 minutes before the funeral.

Grandma was very fond of her great-grandchildren, even scruffy ones.
Less than two weeks ago, I had the sorrowful duty of attending a memorial service for six fallen soldiers from the Stryker Brigade at Fort Lewis, killed in Iraq by an explosive device in the road. One of the soldiers was a friend from our church, who had attended our Small Group Bible Study and our Sunday School class. He had married just five months before being deployed, and our church family spent the last several weeks in deep sorrow, struggling to find ways to console his widow, Emily.

In the year that Grandma lived with my folks, David used to play cars with her for hours. It isn't every day your leg can serve as a superhighway.
As I sat in the church before the memorial service, I was struck by the contrast between this death of my grandmother and the deaths of the young soldiers. Although we feel a sense of loss at Grandma's home-going, it is mixed with gladness, as we celebrate her long and faithful life, and her 'promotion' to Heaven and a new body. I couldn't seem to find a silver lining in the loss of those six young warriors.

The final roll call for the six soldiers who died was very poignant, as each soldier's name was repeated three times without answer. "Sergeant Harkins. Sergeant Jason Harkins. Sergeant Jason R. Harkins!"
At 92, my grandmother's life was lived and her work was finished; at an average age of 23, the soldier's lives were cut off before much of their promise was even dreamed.
Grandma's eternal destiny in Heaven seems about as certain as you can get, this side of the grave; for several of the young men, their lack of faith in Jesus does not bode well for their fate.
Grandma outlived her husband, nearly all of her peers, and two of her daughters; those soldiers were survived by mothers and brothers and (in several cases) wives.
Grandma's death crept upon her slowly and gradually, while the soldiers were cut off in the instant of a sudden treacherous explosion.
Grandma's death was in some sense a relief from pain and decline, while the bitterness of the soldiers deaths still stings sharply.

My cousin Jon Mark has the most joyful, infectious laugh of anyone I know. Hard to believe it of a man who looks so respectable in a suit, but Jon Mark is one of the craziest of a crazy bunch.
I was glad that I had taken the opportunity to attend my grandmother's birthday party in November, 2005; I felt as though I had said "Goodbye" to her then. I hope I'll always remember her sitting in the sun in Steve and Sue's driveway, surrounded by generations of her descendants, enthroned in their love, smiling upon us all from the vantage point of 91 years of life.

Grandma's pictorial display, complete with her fishing hat.
It was good to have a little time to look at the display Steve and others had assembled, commemorating and highlighting some of the events of Grandma's life. In a side room, Grandma's body was laid out in her casket so that we could pay our respects to her 'in person' as it were. I was prepared for a strong, sorrowful reaction to seeing her body, but my response was actually very matter-of-fact; my heart seemed to know that wasn't my Grandma – it was only the body in which she lived for a long time, and which had finally been exchanged for a better model.

A Tree of Grandchildren
All three of my Grandma's surviving children were present, and eleven out of the thirteen grandchildren attended as well, some bringing their entire families. I wish I could have brought my sweet wife and children, but we couldn't afford it, having recently spent all our frequent-flyer miles (and then some).

Uncle David always seems to have great stories involving strange hand motions.
The memorial service focused on the difference Grandma's faith had made over the course of her life; I was particularly touched by letters from some of the six foster children that Grandma had helped to raise, after her older four kids were out of the house. I was challenged with the hope that I might finish as well as my Grandma did, who loved the Lord with all her heart, from the day she trusted Jesus until the day she died.

Cousin Jon amazed us all with his tricks with cutlery and witty banter.
The graveside service was brief, and we all returned to the church for a fellowship meal. As friends and acquaintances from Grandma's church drifted homeward, and the family was left more or less alone, the atmosphere quickly turned festive. Our family doesn't get many chances to assemble together, and we were eager to catch up on news and retell old jokes. As I circulated from table to table, I was struck by the legacy that my Grandma leaves behind – a whole family that loves Jesus – three surviving sons (two daughters already with Jesus), thirteen grandchildren, 29 great-grandchildren and a great-great-grandson! All of these hearts and souls and more were changed forever because Grandma said 'Yes' to the Lord when she was 17 years old, and because she said 'Yes' to Grandpa's proposal of marriage when she was 22. I tremble even now as I think of the long-term ripples from the choices I make so blithely (even insouciantly?) today.

Cousin DJ's family sure has grown up fast!
Toward the end of the evening, my cousin Kevin pointed out that we (as a whole family) are unlikely to assemble together again, unless we take specific steps to make it happen. We are spread all over the map and we don't stay in touch as well as we would like. I mentioned this to my Dad, who suggested a family reunion out in Washington once the Retreat Center is built. The idea was well-received, but I think it will still take some pushing to make it happen. A large part of the family is still in Pennsylvania, and airfare isn't cheap, these days.

My uncle Steve and his bride, who faithfully and sacrificially cared for Grandma in these last years of her life.
As we laughed and joked together so naturally, I felt profoundly thankful for the blessing that God has given to me by putting me in this family. It is very good to be reminded that I am rooted in a lineage that has been loving God for at least four or five generations, and that I can count on His love for myself and for my family.
Know therefore that the LORD your God is God; he is the faithful God, keeping his covenant of love to a thousand generations of those who love him and keep his commands. (Deuteronomy 7:9)

Grandpa preceded Grandma in death by 13 years; what fun it must be for him to show her around Heaven!
Only 995 generations to go … I can hardly wait to see what God continues to do in our family, as we say 'Yes' to our King!

A small part of the whole family at the graveside service
Related posts: