I wanted to be sure and post some of the pictures from our visit with Mamie and Grandad (my parents). Usually we travel to Michigan to see my family. The past two years we have been blessed with tickets (no small gift for a family of 7). Two years ago my dad's church surprised my parents by flying us to Michigan for the big 25th anniversary. They brought us out on stage in the middle of the ceremony for my father. That was a special moment! We stayed in Michigan for several weeks.

Notice there are actually two different games in action here.
Last year my father was awarded a three month sabbatical. Part of the sabbatical included a week at Maranatha Bible and Missionary Conference Center. We had a lovely time with the family (all three of my brothers came as well).

Dan, Thom and Phil with Chase and Aydia
This year my youngest brother, Phil, got engaged. There was some talk of an October wedding so we decided to save our Michigan trip for the fall. We love to spend some time in Fort Clark, Texas each August so we settled upon that as our family vacation this summer. When Phil's wedding plans shifted to June 2007, Mom and Dad began to talk of coming to WA to visit us. Hooray!! It certainly is more economical for two to travel than seven. August seemed like such a long time to wait until we could be together again, so I was thrilled to hear of the possibility of a May visit.
The children will miss the fun of going to Mamie and Grandad's house in Michigan–the tractor rides, playing in the creek out back, the big tree fort, cousin time, and so on–but the essence and joy of the visit comes from being WITH Mamie and Grandad, it's the relationship and not the location that is important.
And so we thoroughly enjoyed our week long visit. We ate out several times (Tim usually tried to steal the check).

Here we are enjoying a delicious Mexican meal.
The kids took turns sleeping over at the hotel with Mom and Dad. One night they took the older four and the day next all five slept over. What luxury for Tim and me–sleeping in! These are some special grandparents.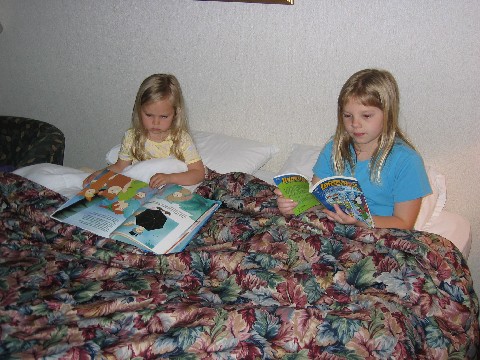 Girls night out–everyone has to bring a book!
We swam and swam at the hotel. We read books, played games and watched movies. Mom and Dad were able to see some of our co-op day as they joined us for the final friends and family presentation ceremony.

Posing around the hot tub
We introduced them to several of our friends at church–Tim even led the Sunday School class on James chapter 4. Dad helped out with several home projects–he installed a screen door on the front and back doors and put new light fixtures in the hall way and Joshua's room.

Traditional shaving time with Grandad–Girls allowed??
It was a very satisfactory visit. The sun even came out for the last two days. On Wednesday Tim worked from home and I was able to drive my parents to the airport. The older three children woke up early and went with me to the hotel (had to sneak in one more swim and continental breakfast).
One last gathering before off to the airport.
Joshua came with me to the airport. Goodbyes are always difficult. They are made more bearable when I know we have the next visit already planned. We will end our summer with almost two weeks of family time in Texas. We are hoping my mom's two sisters will join us for some of the time (they grew up spending their summers in this little corner of Texas). There is also some possibility that my brothers and their families will come as well.

Dinner at the Outback
Sometimes I think of the people I have met over the years and all the ways I have been blessed by godly friendships. My best friend from junior high/high school and I met our (future) husbands while spending a week working with Habitat for Humanity. I had wonderful roommates in college. Everywhere Tim and I have lived we have been a part of couples Bible studies and Sunday School classes. Life and jobs and family move us around from place to place and, even with the internet, it's difficult to stay in touch with people. I wonder in amazement at what heaven will be like. We will have eternity to spend with the Lord and other dear friends. All the believers we have met through the wandering of our lives will be there. It will surely be like coming home. So when I occasionally feel sad about the friends that have come and gone in my life and ones I know it's unlikely I'll ever see again or at least live near them again, I rejoice in the hope that our paths will cross again in the heavenly realm. I have our future visit already planned.
2 Peter 3:13
But in keeping with his promise we are looking forward to a new heaven and a new earth, the home of righteousness.
–Kathy
Related posts: