For some strange reason, I am cheerful this morning. This is a bit strange, since I am rarely cheerful before ten in the morning, and I received less than 5 hours of sleep last night. Ordinarily, writing under such conditions, I produce some dark, brooding essay, inveighing against some injustice or the perpetual curse of human sin. In her subsequent review, Kathy would either veto the entire article or ask me to add a bunch of cheerful pictures for my not-so-adoring public to look at while skipping over my gloomy blatherings.
Actually, Kathy reminded me that she had prayed for me, that God would redeem the sleeping time I lost, especially since I had been so kind to take our family & friends out for an evening on the town. Praise God for His kindness to me!
Truth be told, I could probably drum up the proper melancholy spirit if it was necessary. But I've already started my second Diet Coke, and I just can't stop humming the tunes from a musical I attended last night. It is Friday, after all … I guess a little cheerfulness on the ferry can be overlooked, even in the morning.
While I'm on the subject, I'll offer a few life-saving tips to those morning people out there. Here is a short list of the things you should never say to a night-person before noon, unless you seek bodily harm:
"Rise and shine!"
"Greet the day!"
"Up and at 'em, sleepyhead!"
"The early bird gets the worm!"
"Carpe diem!"
Nearly any bright and cheerful trill that requires an exclamation point is right out. Avoid any sentence with a verb more active than those routine for sloths or glaciers … otherwise you invite muttered threats, rejoinders and vulgar gestures, e.g., "I'll greet your day, buddy."
I guess that is enough do-gooding for today … consider that a public service announcement intended to preserve the lives of unwitting morning people. … And now, back to our regularly-scheduled programming.
As a birthday present to Kathy (her birthday rages on, unfazed by the number of intervening days since the 16th of July) I purchased tickets to attend the Taproot Theatre's production of You're a Good Man, Charlie Brown for Kathy, myself, and our oldest three children (Weasel, Nettle and Slug). As an extra treat, I arranged for some dear friends to attend the same performance, unbeknownst to my beloved Kathy and the children. Our faithful neighbor, Annjanette, held the fort and babysat our two youngest children, Thunder & Lightning.
I first saw this musical on stage here in Washington in 1972 (give or take a couple of years). I think it was performed by a local amateur group at Fort Lewis, and I don't remember much about it. My Dad somehow acquired a reel-to-reel tape of the musical (8-tracks were too modern and trendy for him), and played it on request for me throughout the four years we lived in Germany. It occupies an important place among my childhood memories, particularly the "Book Report" song. (More perhaps on that later.)
My children are all Peanuts fans, particularly Weasel, who owns many, if not most, of the collections of that long-running comic strip. And of course we own several Peanuts videos, including the animated version of "You're a Good Man, Charlie Brown", which I heartily recommend.
Arriving in North Seattle, we ate a hurried dinner at a nearby pizza place, and located our seats by the clever expedient of finding our friends who were there before us. I was particularly smug to see how surprised Kathy and the children were to see their good friends 'coincidentally' attending the show with us. Kathy sat right next to Tina and Nettle and Slug greeted their friends enthusiastically. (We are none of us looking forward to the Burt's departure for Missouri next week — even three days of separation seemed excessive.) The production lasted almost exactly two hours, including a few additional songs along with the parts of the musical we knew so well.
The show was excellent, playing to a packed house. We had great seats in the first and second rows along the side of the long protruding stage, sitting with our missionary-in-training friends and their three children. Kathy had to remind Slug not to put his feet on the stage, for fear that he would trip one of the actors. (For some reason, I always seem to get good seats at performances … I'm not sure why. I always try to be kind and gentle-spoken to the box-office workers and frequently enlist their aid in choosing seats … maybe that is my secret? Or perhaps it is a gift from God, and no credit to me at all. Hmmph.)
I particularly enjoyed the facial expressions as the familiar play unfolded … the actress playing Lucy nearly stole the show away from the Charlie Brown character, in my opinion. The actor playing Schroeder (a worship leader at a nearby Bible church) gave a tremendous boost to his role in the "Book Report on Peter Rabbit" song, dramatizing the fight between Robin Hood and the Sheriff of Nottingham with his oversized pencil. (Many ill-informed readers are not familiar with the critical role that these two medieval characters play in the well-known bedtime story, Peter Rabbit.)
Charlie Brown, Lucy, Linus and Schroeder were assigned a book report on the children's classic, Peter Rabbit. The approaches taken by each of the characters are worth noting for the simple reason that they outline four of the primary possible reactions to any academic assignment. Indeed, this part of the musical made a lasting impression on me and provided the foundation of much of my later academic, er, success.
The song is begun by Lucy, who takes a minimalist line of attack. She quickly establishes the parameters of the assignment (100 words) and eventually reaches that goal through the clever expedient of listing all the vegetables in the garden and liberally using the adjective "very", as in, "the very very very end." She completes the assignment having gone through the motions and writing exactly 100 words, most of them devoid of any original thought.
Some assignments and life situations seem to require exactly that approach.
Schroeder begins his report with good will but finds the subject insufficiently interesting to hold his attention. He quickly segues into a plot summary of Robin Hood and ties it back together like this:
"… away they ran. Just like rabbits. Who run a lot.
As you can tell from the story of Peter Rabbit
which this report … is about."
I have used this method frequently. When an assignment or situation lacks scope or interest, it can frequently be hijacked into a different, more interesting project, without adverse consequences. Frequently your audience is sufficiently pleased with your passion in the new topic, that they are willing to overlook your failure to address the original issue.
Linus takes an approach which I have labeled "over the top." Similar to Schroeder, he is unwilling to settle for a simple 100-word report on Peter Rabbit but rather dives deep into the subject matter, examining the sociological pressures under which Peter labored and his deeply-rooted rivalries with Flopsy, Mopsy and Cottontail. At the very least, deep-sounding philosophy can often cloak empty-headed babble, as is regularly evidenced in this blog.
As a sort of a counterpoint to each of these themes, Charlie Brown agonizes over the advisability of procrastination:
"If I start writing now,
when I'm not really rested,
it could upset my thinking,
which is not good at all.
If I wait 'til tomorrow,
there'll be lots of pressure,
I work best under pressure …
I should start writing now."
Ultimately the other three reach a crescendo and complete the assignment, which time Charlie Brown has wasted in his dithering. He now begins after all the others have finished.
Sadly, this is perhaps the approach I have most relied upon, with predictable consequences. Nevertheless, I really like the "Book Report" song.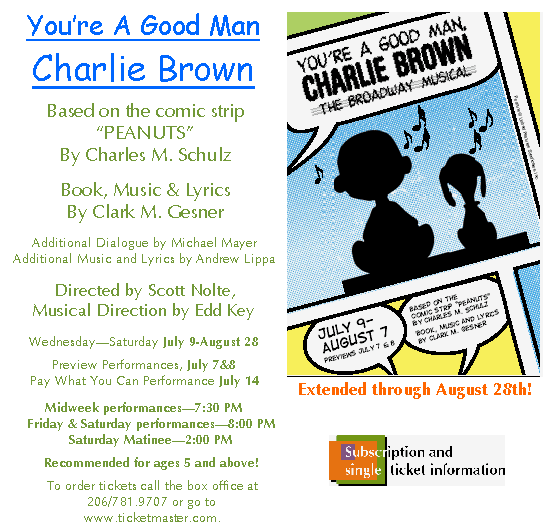 Leaving the theater, as we straggled our way to our respective cars, we were treated to an additional bonus. The cast members, heading for their own vehicles, joined us as they exited from backstage. They spoke kindly to each of the children, and shook hands with each of us. Snoopy took time to instruct Slug in the finer points of barking, and I had a chance to congratulate Schroeder on his excellent performance.
We ate our leftover pizza on the way home, stopping for milkshakes after an appropriate interval. I was dead-tired but happy when we arrived at home around 12:30 am. Kathy's marathon birthday continues, unchecked.
Related posts: