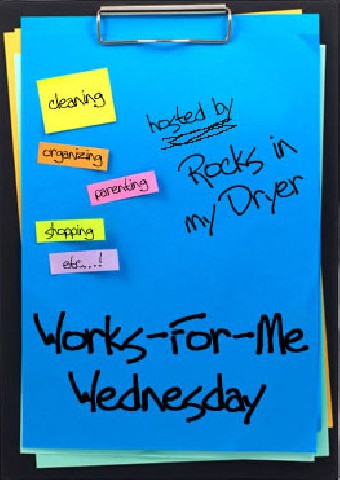 Tim did an excellent job of handling the blog while I was off playing Cranium with the girls. Now if I can just get the keyboard back (he has a surprisingly strong grip) I can write this week's Works for Me Wednesday post.
Since I'm reaching the end of my Reunion Countdown, I thought I would share a few of my diet and exercise observations. Chime in with your own tips on the subject, I still have a little ways to go to reach my goal, and love hearing how other people are winning this battle.
Reflections on Diet and Exercise – Keys to Losing Weight
Move More/Eat Less – I know, this is so obvious I shouldn't even have to say it, but I have been really surprised to find out how true this actually is.

There was one point in my life when I was doing aerobics 4 times a week (The Firm – weight training and cardio mixed) and walking 5 to 6 days a week. I did NOT lose weight. My body did tone a bit but it was incredibly slow. I was not eating very well. It wasn't until several years later when I completely "cleaned up" my eating that I began to really lose weight. I cut out sugar, wheat and flour as per Kay Sheppard's food addiction program. This was a total lifestyle change and took away almost all of my uncontrollable food cravings and overeating. I lost 65 pounds in six to eight months. It was an incredible blessing and joy to lose this weight. I am so thankful the Lord blessed my hard work with such stunning results.

As time went one, however, I was unable to lose the remaining 25 pounds that I had originally targeted. I've been stuck at this same weight (fluctuating 5 or 7 pounds) for over two years. It has been frustrating to be in a plateau for so long. Argh! Combining an aggressive exercise routine with a restricted calorie plan has been the only thing enabling me to finally shed the weight again.

This plan is very mathematically and physiologically based. I exercise 600 calories/6 days a week and burn off 3600 calories weekly. I limit my eating, reducing my calories by 500 a day or 3500 calories a week. Potentially I can lose 2 pounds a week pursuing this program.

Got my hair cut and highlighted today. Hooray.

Find an exercise partner – I love reading a magazine while I exercise. I have even figured out how to hook up my portable DVD player (the one the kids use in the car) to the elliptical machine. Add earphones and I can enjoy a movie while I power out an hour's workout. However, over and over it has been my family's support and a friend's companionship which has motivated and encouraged me in my exercising.

I remember one week when I was tired of going to the YMCA. I had already been there several times and I was feeling bored and burned out. Julee (my wonderful friend and exercise partner)) invited me to join her in a workout. We ran intervals on the treadmill (okay, she ran while I jogged). Next we moved to the stairstepper for a short workout and ended our time on the elliptical. The next day we put in a long, sweaty hour on the elliptical machine. By the end of those two days, I was rejuvenated and ready to work out on my own again. Whenever we can, Julee and I sneak in walks around our neighborhood.

Meet a friend at the club, start walking regularly with a neighbor, get your family to ride bikes. Do what it takes to surround yourself with active, energetic people who support your goal of being healthy.

Calories count – ouch! Every day I log on to Fitday.com and record my food. It's boring and occasionally tedious, but it keeps me totally accountable for what I'm eating. My eating has shifted over this past month as I have watched the numbers in my food journal. For example, I have a breakfast pancake I make almost every morning. After recording the information each day for a week, I decided I would rather save some fat and calories by cutting out one of the eggs. Instead of two eggs, I use one egg and two egg whites. Simple change, doesn't affect the recipe yet cuts calories.

It turns out all those magazine tips are on to something –

select chicken instead of beef
switch to lower calorie condiments
use salsa and mustard to season food
measure snack foods (don't eat blindly)
watch portion sizes
drink water to help during hungry times
don't eat late at night

The Oregon coast is gorgeous! What a beautiful beach.

Record Your Information – keep track of your progress. Fitday and My Calorie Counter are both free and calculate calories, fat, protein and carbs in the food journal section. Practicing this discipline for at least two weeks will reveal patterns in your eating, show you areas that are available for positive change, and provide an amazing reality check on the quantity of food you've been eating. It will also encourage you to see the progress you are making.

I have an Excel spreadsheet where I record my food totals, exercise data (types of exercise and calories burned), and my weekly weight. It takes only minutes to input this information and results in a snapshot of how I'm doing each day.
I wish I had taken my measurements at the beginning of this month long program. It would be interesting to see how I've done in that area. Of course, when I'm feeling fat and flabby, pretty much the LAST thing in the world I want to do is measure myself. Shudder.
I can, however, report on my weight loss. As of day 26 (I weigh on Fridays) I had lost 7.2 pounds. Not only that, but I've gained the confidence that I can work hard and make a positive change in my body.
Now to be careful not to blow it all during our Homecoming weekend.

If you have lost weight and kept it off, I would LOVE to hear your thoughts, tips and advice. Leave a comment and share with us all.
Visit Rocks in My Dryer for other Works for Me Wednesday ideas.
Duckabush Blog Works for Me Wednesday entries.
Several weeks of Tuesday Parenting Tips.
Kathy
Project 365 – Day 296
Related posts: