The sun was shining today – a near miracle in Washington state during the month of January – so I decided we should take advantage of the good weather.

…by baking bread and taking pictures.
Yes, that's actually what I thought. Not, go to the park, take a walk or get some fresh air.
Nope, it was more like, "Hey kids, the sun is out which means we could take some good pictures inside (without the flash, of course) for the blog. Let's make bread!"
Apprentice baker and photogenic blog hog.
Some people are sort of pathetic.
I am one of those people.
But I do have a delicious bread recipe to share.
Years ago (for an exact date I'll have to ask my mom or one of her sisters) my beloved Nana wanted to create a recipe for bread that would be delicious, simple, require few ingredients, and be low in fat. She devised this recipe, named it Mesa Manna (after her home which was nicknamed, The Mesa) and shared it with the family.
I have made all sorts of different bread recipes over the years, but I continually come back to Mesa Manna. It is just what Nana desired: simple to prepare, delicious and low in fat.
I use my Kitchen Aid but this could also be made by hand. If you are a baker extraordinaire, please excuse my long (rather redundant) explanations. Also, I'm afraid I NEVER measure anything but the water for this recipe so you might have to experiment a little bit here and there on the exact amount of the ingredients. Thankfully this recipe is incredibly forgiving.
Mesa Manna
Ingredients
3 c. warm water
1 tbs yeast
1 tbs sugar
1 tbs salt
1/3 to 1/2 c. sugar
7 cups of flour
Directions
3 cups warmish/hot water (not burning hot or it kills the yeast)
1 tbs yeast
1 tbs sugar
Let sit 5 minutes. Stir. If the mixture is foamy, your yeast is active. Cheer and be thankful that in several hours your home will be filled with the irresistible smell of fresh bread.
Add 1 tbs salt
1/3 to ½ cup of sugar (honey or brown sugar)
Begin to add flour. I usually stir in 3 or 4 of cups first. After a little bit I can tell my Kitchen Aid is itching to do it's thing so I attach the dough hook, toss in another cup or two of flour and turn it on.
Sarah scrapes the edge of the bowl. Such a big helper!
The dough probably needs one or two cups of additional flour. I let the Kitchen Aid knead a little while (there's time to check my e-mail or put in a load of laundry but not much more). When dough forms a nice ball in the Kitchen Aid, it's done.
If I were making Mesa Manna by hand (which Tim and I have done many times over the years), I would stir the flour into a large bowl until it was coming together nicely (no longer terribly wet like cake batter). Then I would put it out on a clean counter top that is floured. The dough will be sticky so you need to have additional flour on hand. Knead it, adding flour as necessary, until the dough shines and has an elastic feel to it.
Put oil (I don't measure–probably a tablespoon or two) in bowl and add dough, turn dough so it's all "greased". Cover bowl (I use a clean dishtowel–you could use plastic wrap or foil) and set aside.
I usually let the dough rise in either the microwave (that has run for 30 seconds) or a warm oven. This is a tip an older woman from our previous church shared with me, and it works beautifully (especially when the temp varies in your house). Turning the oven off is KEY! Do not neglect this step. I use a metal bowl if I'm putting it in the oven or a plastic bowl for the microwave, but I'm boring that way.
It has nothing to do with a melted Tupperware bowl – baked plastic and bread dough, yum! Nope, not at all.
Let rise 1 hour or so. I don't really pay too much attention to the time–it might need more. Check it and see how it's rising. This dough is very forgiving so if you have less time or more time just go with it. If you won't be cooking the bread for some time, you can easily punch it down and let it rise again.
Bread bowl experiments.
Make into rolls on greased cookie sheet. I usually cut the tops of the rolls (with my kitchen scissors) to make them look pretty and my mom puts a dash of water on the top of each one. Let them rise (if you have time) another 20 or 30 minutes. If you don't have time (and they look fluffy enough already) you can put them in right away. You can also cook them in a 'cold oven.' They rise as the temperature in the oven increases.
400 degrees for (approx) 20 minutes.
This will make 3 large pizzas or a very full pan of rolls. I've also used the recipe to make sweet rolls. Tim likes egg Stromboli for breakfast (basically just scrambled eggs wrapped inside the dough and then baked). The kids really love them made with all white flour (I must admit, they are VERY yummy that way). These days I immediately mix the whole wheat and white flours together in my bin so all white bread is not an option. I sometimes add additional ingredients – powdered milk, plain yogurt, oatmeal, different types of flour, or even spices (Italian Seasonings if I'm going savory or Cinnamon if we're feeling sweet). Experiment and have fun with this very versatile recipe.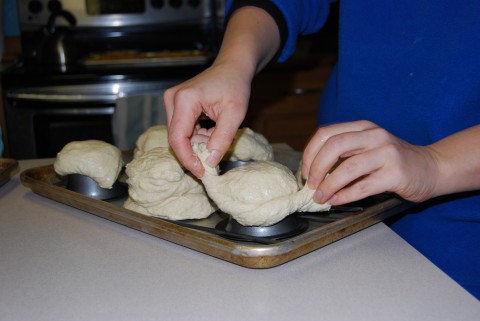 Making bread bowls for soup.
Yesterday I made a delicious pork stew and thought it would be fun to bake our own bread bowls. We tried them again today, this time cooking some over top of upside down popover tins and others on top of over turned bowls. The bowls work much better because the flatter bottom. We put on a light egg wash before baking.
We also discovered greasing the bowls is a crucial step and shouldn't be missed. If you happen to run out of baking spray, don't shrug and figure it will be okay, take the time to put oil or butter on the baking dishes.
Trust me on this one.
Who's up for some soup, in a freshly baked bowl? If you have a favorite bread recipe, leave a comment and share it us.
Mom, Aunt Kate, Aunt Stephanie, Thom, or Joyce did I miss any crucial steps in describing Mesa Manna? This is how I make mine but I bet your version might be slightly different. Tell all!!
Stop by Works for Me Wednesday for other tips and treats.
Kathy
Project 366 – Day 15
Related posts: