Several weeks ago I was talking with a friend about my struggles to Do It All as a homeschooling mother of five. This godly woman is an amazing problem solver, and within minutes she had several ideas specifically addressing my scheduling and organizational needs.
I cannot reveal her name.
There are times when it is best to protect a person's anonymity. This is especially true when there are five children (at least one of whom is a rather hulking teenager) that cherish their free time.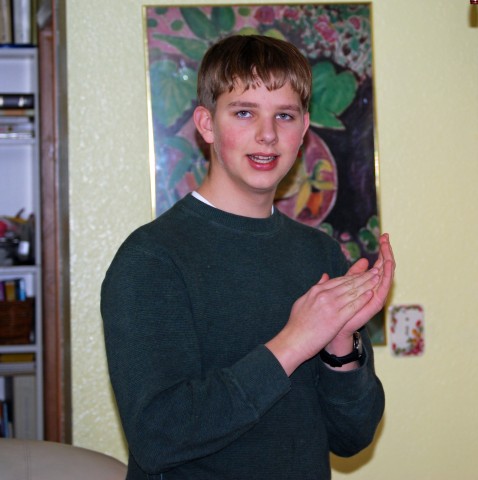 Joshua works on his menacing look.
At the onset, my beloved offspring were not exactly enamored with my friend's involvement in our daily lives. What she suggested has made a dramatic change to our schedule. After our conversation, I immediately brainstormed how to put it into practice. Although the children have grown accustomed to this new system, and even appreciate its simplicity and structure, I feel it is best not to divulge the true origins.
Plus, I like to keep the rascals guessing. It's important to have some aura of mystery and lofty wisdom as a mother.
Life Skills
There are many people in this diverse and beautiful world who are naturally organized. God love them.
I am NOT one of those people.
Despite my many housekeeping shortcomings, however, I do like things somewhat clean and tidy. When my home is cluttered and messy, I feel suffocated and overwhelmed. I need some order in my life. Homeschooling five children is not the ideal situation for cultivating a well-kept home. We live, really live, in our home all day.
These children never go away!
[Deep breaths]
But I digress.
My friend's idea was this: build an hour of Life Skills into our daily homeschooling schedule. Life Skills could relate to everything from chores to cooking, budget lessons, lawn work, or even babysitting instruction. I absolutely loved the idea! It was perfect and could be applied to so many different areas of life.
I decided my most crucial need was regular, structured help in keeping up the house. The kids are wonderful and regularly assist in picking up the house, but when I look around at our messy home and shout,
"We need to clean the Entire House – Right Now!"
they are often overwhelmed and paralyzed…or hiding in the hall closet.
Not to throw stones; at that point I'm usually overwhelmed and panicked as well.
Look Sarah, let's take a picture of Mommy having a meltdown.
Life Skills has changed everything. I hate to sound dramatic, but this simple addition to our schedule has truly transformed things in our home. I don't have to worry as the house begins to look messy and cluttered during the day, I know at 4 pm the cry Life Skills will go forth, and by 5 pm the entire house will be picked up and fresh.
It's heavenly!!
Here are the basic steps on how we developed the practice of Life Skills:
Divide up the house
Make a list all the rooms of the house (don't forget the laundry room)
Write down the basic chores needed in each area
Group areas together according to size and complexity of work
Assign a weekly rotation
Find a time in your daily schedule that would accommodate an hour of Life Skills
Go For It!
My older three children each handle one meal (dishes, clearing table, loading and unloading the dishwasher etc) a day. They are assigned that meal for the week, at which point they rotate. We have practiced this for several years now and it (typically) works smoothly.
I decided to combine the Life Skills job with the meal rotations. Rachel helped me to break down our home into specific work areas and then coordinate the jobs with existing positions. We delegated the smaller areas of the house to the younger children and included them on the meal appointments.
For example, the child with the breakfast assignment is also responsible for tidying the living room and downstairs bathroom. Lunch has the upstairs bathroom and the laundry room (neaten room, gather dirty clothes and run a load of laundry). Dinner (which is a big responsibility, taking the longest amount of time to complete) is in charge of the family room and hallway (smaller areas).
David and Sarah (my almost 7 and 5 year olds) assist their siblings with meal and laundry chores and handle the dining room, stairs, and upstairs hallway. They rotate jobs as Little Buddy 1 and Little Buddy 2.
This Little Buddy is taking a Little Break.
Once a week the children are responsible for giving their section a thorough cleaning (wash floors, vacuum, dust, etc). Because the children are so efficient and the house is now being picked up on regular basis, I was able to add in a 10 minute bedroom clean up to the Life Skills roster.
Another friend has suggested I include a Clean the Minivan job. You can see the options are limitless.
Mother, I beg you, please don't any anything more to Life Skills.
There you have it. A rather lengthy and detailed description of how we apply Life Skills to our day. If you have any questions, please leave a comment and I'll do my best to confuse you further help clarify things.
Drop by Don't Try This At Home and see other Works for Me Wednesday links.
Kathy
Related posts: