The sun has arrived in Washington state and with it a hint of summer. As a relaxed (you could call us disorganized and unscheduled but it wouldn't be nice) homeschooling family we often need to continue our schooling through the summer months. For the most part this works out well. The children do some school in the morning and we enjoy some of the beautiful sights of Washington in the afternoon.
Sarah loves the park.
A few random things that work for us:
Put to good use the children who are living in your home – this may seem obvious but it lately my boys have taken on more outdoor responsibilities. They can mow lawns, trim shrubs, and just generally help with lawn maintenance. The whole family (sans Tim who was working in the city, very conveniently I might add) helped with the housework. They vacuumed carpets, scrubbed out the shower (including a soiled, okay moldy, shower curtain), put away toys, washed dishes, sorted laundry, and swept floors.
Sometimes the boys fight over chores. Winner takes his pick of jobs!
Enjoy the occasional take-out – We are on a strict budget and rarely go out for dinner or bring home take-out, however, there is nothing quite like dinner prepared by Papa Murphy. We have family visiting from Norway and they said they simply couldn't return without feasting on some yummy pizza. Suddenly I had the afternoon free. No dinner to prepare, the children were busy playing outside and working on the hedges, I managed to clean and organize the laundry room. It was lovely!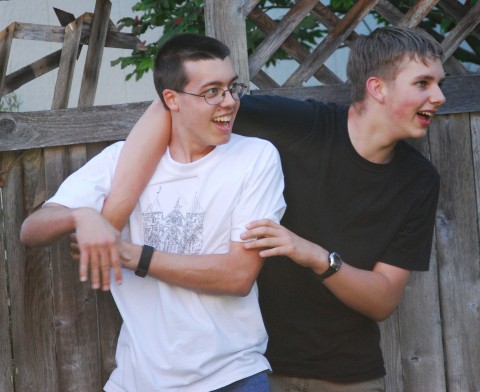 The boys enjoy a little football after dinner.
Read, read, read aloud to your children – We are definitely a family of readers. The dire threat last week, when the children went to visit grandparents, was that they could only bring (gasp) ONE book. Shocking. This summer Daniel and I are enjoying Mr. Tucket by Gary Paulsen in addition to some of his school books. David, Sarah and I are working our way through the Sonlight Kindergarten collection. Rachel is reading Pride and Prejudice aloud to me, after which I conclude up with a chapter of Before You Meet Prince Charming.
My beautiful princess!
Reading adds depth and richness to our family and is one of our greatest joys.
This is just a very random collection of some things that Work for Our Family. Pop over to Rocks in My Dryer for other Works for Me Wednesday tips.
Kathy
Project 366 – Day 176
Related posts: