I'm looking south through our bedroom window, across the valley at the snow-covered hills, as we enjoy the last hour of our stay in Leavenworth, WA. I could sit on the balcony, but it is cool this February morning, and I want to be near Kathy, who is not yet ready to be outside. The fire in the corner warms my skin to match the warmth in my heart as I savor the memory of this glorious getaway weekend.

The view from our balcony …
It all started more than a month ago, when my parents returned from their travels on the east coast. They'd been away for three weeks, and enjoyed time with my brother and sister and their respective families. Now they were ready for some time with our children.
"When can we have the kids?" they asked us, eagerly. Although they often host our children out at the Duckabush, my parents always seem to be willing to help out. It is a great blessing to have grandparents who enjoy their grandchildren and are so solicitous for our well-being as parents and as a married couple.

My Valentine
"We'd really like to send the two of you to Leavenworth," they told us. "Can we make the arrangements?" We checked our calendars and found we were free on the weekend that spanned Valentine's Day and President's Day. And so it was, that we found ourselves driving three hours into the Cascade mountains on a dark and drizzly Friday evening. Arriving just before 8 pm, we were graciously greeted by the Randy and Renee, the host and hostess of this beautiful Bed & Breakfast, the Abendblume. Perched on the slope just outside the town of Leavenworth, the Abendblume boasts seven suites in a luxurious Bavarian chalet-style building.
The Abendblume
The common areas are a feast for the eyes, tastefully decorated in winter and Valentine's Day themes. We spent much of the weekend alternating between our sumptuous suite and the piano room, where comfortable chairs and couches faced a large fire, blazing and crackling.
Most of the time, we had this room to ourselves, which was delightful.

Our suite was called the Schneewittchen (aka the Snow White suite).
Each morning, Renee served breakfast in the dining room, with delectable Aebleskivers one morning, Eggs Caprice and Almond Puffs another. Fresh fruit, coffee, fresh-baked bread — these breakfasts made it worthwhile, to claw my way up from the embrace of the soft bed and down comforter, each morning. The hostess helped me to fill a delectable tray of goodies to bring back up to our suite, where I was greeted as a hero by a late-sleeping Kathy.

Aebelskivers are the round muffin-like things with powdered sugar in the cast-iron pan.
During the day, Leavenworth boasts a variety of shops and restaurants, all decorated in a traditional German motif. Even the Subway and Bank of America sported custom lettering on their signage. We shopped and strolled and dined and talked to our hearts' content. In the evenings, dessert was served in the dining room from 8 – 10 pm; it was very pleasant to have a reason to leave our room, and to mingle with the other guests.
On Saturday afternoon, we had instructions to report to Mountain Springs Lodge, some 20 miles further into the mountains. "Dress warmly and bring an appetite," the cryptic instructions read. The brochure that accompanied the directions featured a 2-hour snowmobile ride by moonlight — neither of us had ever been snowmobiling before, and Kathy was somewhat apprehensive. "Do you think your folks would send us snowmobiling?" she asked me.
I wasn't sure. My parents can be unpredictable, sometimes — but snowmobiling didn't really seem their style. Arriving at the Lodge, we presented ourselves to the snowmobiling concierge. "No, I don't have a reservation for you," the girl told us, as burly men struggled into snow-suits behind us. "Maybe you are scheduled for the sleigh ride?"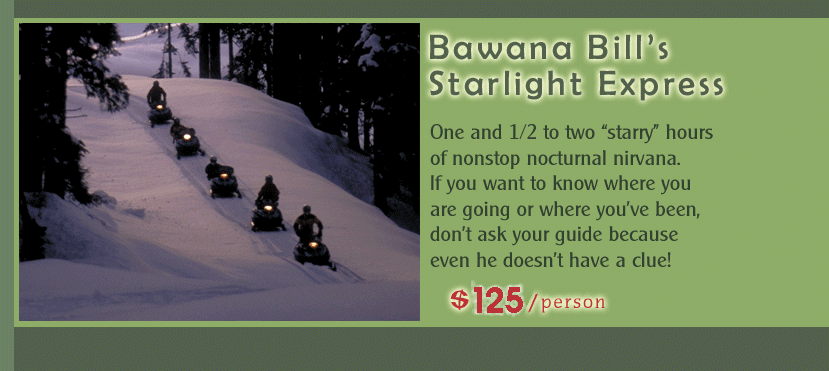 This was the image from the brochure, featuring the 'Starlight Express'.
Sure enough, when they checked, they had a reservation for us on the sleigh ride — we were both rather relieved. I stopped imagining scenarios in which the two of us plunged off a precipice, struggling vainly with the controls of our snowmobiles.
We enjoyed a ride through the woods on a large sleigh, pulled by two very powerful draft horses, who didn't seem to mind that the snow in the pasture was mainly slush. Following the course of a small stream, the horses began to trot, and I found myself back in the days of Little House on the Prairie, complete with blankets to keep us warm. About two thirds of the way through the ride, we dismounted for a hot apple cider break, and to stand around a fire just outside an old barn.
Arriving back at the lodge, we found a delectable salmon and prime rib buffet spread before us. They settled us at an intimate table tucked away behind a huge stone fireplace, truly a Valentine's Day experience with all the trimmings, down to the chocolate-covered strawberries for dessert.
Of course, there was always dessert back at the Abendblume, as well …
It was a glorious 72-hour vacation, very reminiscent of our honeymoon, a time when we could enjoy each other without distraction and wallow in luxury. Even now, as I finish writing this blog post several weeks later, a smile comes to my face and a deep sense of rest and peace lingers in my heart.

Not Kathy's actual hairstyle — but we did stop off at the Hat Shop.
When we returned home, we discovered that the sleigh ride and dinner had been a gift to us from our children, which they paid for in work for Grandma and Grandpa. It commemorated the 50th anniversary of my Mom and Dad's first date. How typical of my parents, that they would choose to celebrate by giving us such a memorable experience!

A very memorable weekend …
My mind turns to what I would consider my first 'date' with Kathy (we had a somewhat unconventional courtship, involving a lot of group activities and 'casual' time before we ever 'went out' on a date). For us, it was coffee and some kind of pastry at Duncan Donuts (I've always been a big spender on first dates). Maybe in 30 years I'll be sending my children and their spouses off on a Valentine's Day Experience with All the Trimmings.
Related posts: