This evening we picked up two of Joshua's friends on our way to church. Both boys' mothers are recovering from leg injuries (one had hip surgery). We giggled a bit at the thought of them getting together and hobbling about on crutches or lounging with their feet up while the children (9 of them between the two families) cleaned the house.
When we arrived at church, I hopped out of the running car to take a quick picture. I made asked the boys to stand near each other for the picture. "Pretend you like each other," I shouted in my best photographer voice.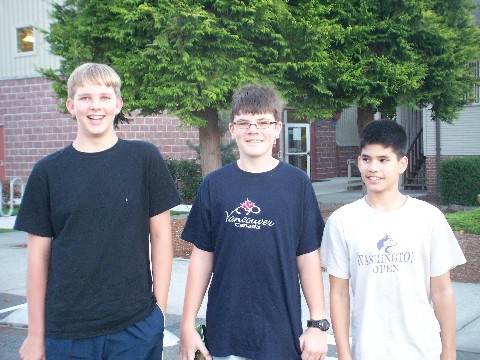 Can we please go to youth group now, Mom?
"Why is your mom taking our picture?" One of the boys asked.
"She always has her camera with her, it's just a thing she does these days," was Joshua's reply, not embarrassed, just resigned.
I never could get the boys to stand very close. The one where I suggested they put their arms around each other came out looking like Joshua was about to throttle one of the other young men. I thought it best to be kept off the blog.
In the end I settled for, "Stand still."
Kathy
Project 365 – Day 262
Related posts: