Tianne Moon – EnJOY: A Thirst-Quenching Look at Philippians
We watched Session Four from this (DVD study) tonight at Bible study.
Running the Race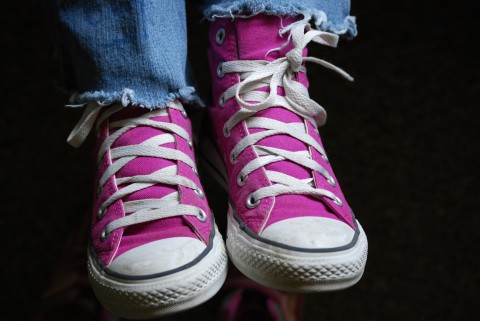 I press on toward the goal for the prize of the upward call of God in Christ Jesus. (Philippians 3:14)
Four Things That Can Take Our Eyes off the Goal of Knowing Christ Intimately
1) Basking in the glory of past accomplishments –
When I was in college, I had amazing times with the Lord. It was so powerful!
But have you met with Him TODAY?
Two years ago I was a part of this new ministry at church. It was life changing for so many people.
But how are you serving the Lord TODAY?
If we spend so much time reflecting on the past, we will miss what the Lord wants to do in our present.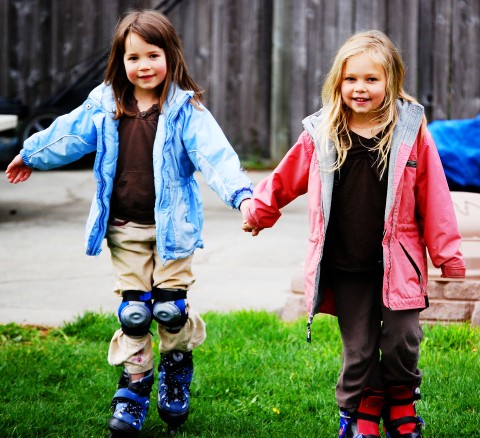 Sarah (age 5) sets out to teach Elise (also age 5) how to rollerblade. Oh my!
2) Bowing under the weight of past failures –
God can't forgive me because I ____________. My sins are too big even for Him.
I can't seem to stop struggling in this area (fill in blank), so why bother trying?
Isaiah 43:18-19 says: "Forget the former things; do not dwell on the past. See, I am doing a new thing! Now it springs up; do you not perceive it? I am making a way in the desert and streams in the wasteland."
The Lord promises to forgive us our sins and cleanse us from all unrighteousness (I John 1:9). We don't need to be so burdened by our past struggles that we can't move forward.
3) Biding our time waiting –
The Christian walk is an upward climb. If we choose to put our walk in neutral, we will not remain in one place. We either persevere and push onward and upward, or we slide back down.

Elise and Sarah abandon the rollerblades in favor of some other wheels.
4) Being distracted by earthly goals and interests –
Even things that appear outwardly good and positive can distract us from following God and His calling for our life.
Challenging thoughts on running the race. The question was asked:
What does your journey look like right now?
A meandering stroll? A light jog? A nap on the sidelines? An intense race?
And …
What changes can you make TODAY that will help you keep your eyes focused on the heavenly prize?
Thought provoking indeed.
Kathy
Project 366 – Day 112
Related posts: