It turns out there's more to taking artistic pictures of living rooms and hallways than just snapping the camera.
This casual corner is the dining room. I must admit I LOVE the pink wall. A splash of COLOR.
First you have to clear away the clutter, anything that indicates you actually live in your house.
Thankfully I have helpers for that kind of work.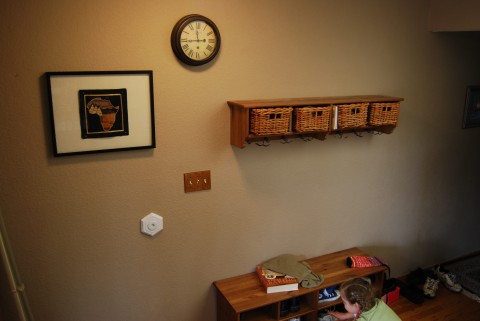 Notice Sarah working hard to clean up the hallway.
Then there is the required posing and search for proper lighting.
"Hey, Sarah, casually stand in front of the door stop and pose again, will ya."
What kind of angles work best in long rectangular rooms? How do you take natural looking pictures of a room with lots of windows without the light from those windows throwing your, um, lighting off?
All in all, I have a new appreciation for the gorgeous pictures you find in magazines on a regular basis. I never did get a satisfactory photo of the living room. Of course, I'm still on the look out for some things to put on the walls. The room isn't quite finished.
My decorating money is about gone, however, so I'll be scrimping and saving for the last few things.
When all else fails, throw in some pictures of cute kids playing at the park.
I LOVE, LOVE, LOVE the new blinds and curtains in the living/dining room. We've lived here four years, that seems long enough to wait before deciding on drapery. I see why we waited, decorating is expensive!!
Thank you for all your hard work, Dad, I couldn't have done it without you!
Kathy
Related posts: