Hello everyone, its me again! Rachel! : ) I know I'm all over the place right? Haha Sooo, I was just writing to tell everyone about our fabulous week at the Duckabush. I for one had a wonderful time. One novelty was the bikes, they were a great help! Hannah, Bethany, and I did lots of biking!
Mind you, there were only 3ish bikes, and about on average 18ish children (counting a few neighborhood hooligans) So if you wanted to use the bikes, you had to:
1. Bribe a brother
2. Keep the bikes out of sight from other competitors
3. Escape!
It was lots of fun! : )
Anyways, the bikes, golf cart rides, swimming, walking, talking, were all fun, but I think my favorite was the ping pong tournaments! The CITS (counselors in training), Hannah, Allison, and I, all participated. Oh and an occasionally a dad or two. ; ) We played games like; Round Robin, (haha even now I still want to call it Red Robin! :P) We played two on two, and one on one. But my favorite was definitively 'Red Robin'. Because so many people could play!
They pretend to be working on camp stuff, but they're really plotting ping-pong strategies.
An exploding ping-pong would be cool!
Another fun thing we did, was geocaching. I think my dad wrote a blog on geocaching not to long ago, but just in case you missed it, I'll put a link! Just for you! : )
The first geocache we visited was on a cool rock mound. We had to drive up and up and up to get there. I got dizzy! haha : P
Sarah picked this out of the cache just for Mom.
The second was not a real cache, but just a cool location. The Pancho, and Edgren children (except for the younger ones) braved the climb down, than up the steep rocks. I probably should have stayed, because I fell in 3 times! And if you don't believe me, I have bruises to prove it! lol : )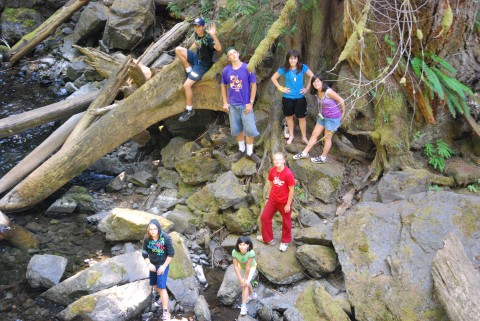 This waterfall was awesome! Even if I did fall in.
I just came from swim team, ahhh it was hard, but it felt sooooooooooooooooooooooooooooo good to swim!! That's one of the only things I missed during the week at the Duckabush. I love swimming! : )
Dan seemed to think this water was good for swimming. Brrrr
This was our LAST geocache of the day. Number 3!
Also, a super fun part of the week was driving around on the Red Blitz, I don't really know why they call the golf cart that…. maybe they hope it will go faster with a cool name? I think that's a good idea! Grandma and Grandpa were major nice to share the 'Red Blitz' with us. And, we only broke one little part of it. I thought that was pretty good, for almost two houses full of teens!
This is my Grandpa, and of course my favorite sister. (oh wait, I only have one! haha)
Here, Hannah and I are pretending to drive crazy, but no worries, I'm a safe person. ; )
The rest of the week was spent playing doing, well just about anything you can think of, it was pretty amazing. We even managed to clean the house on Saturday. The girls and my mom rushed around cleaning as fast as possible, it was….. well, interesting I miss it already…… It was a GREAT week and we were all sad to go home.
I hope next year everyone can come out to the Duckabush, and have an even better time! Oh AND, I'll be a CIT next year!! MWHAHAHA just kidding, I am excited though! : ) I think…….
Sincerely, anonymous or not so anonymous Edgren child : )
Related posts: