Too many books, games, teacher's guides, puzzles, manipulatives, workbooks, novels, toys, magazines, computer games, books, books, books, and too little money.
Rachel and I went to a used curriculum sale this morning. She didn't find as many treasures as I did but she was a lovely companion and good sport (especially as the hours dragged on and I continued shopping).
We ended up staying until the bitter (or sweet depending on how you look at things) end of the sale. At this point I definitely scored!! Almost all of the tables dropped their prices in half and several people started giving away their books for free. I think I got almost as many things free as I did at cost. Delightful!
I meant to spread everything out and take a picture but didn't get around to it. Here are just a few of the things I found.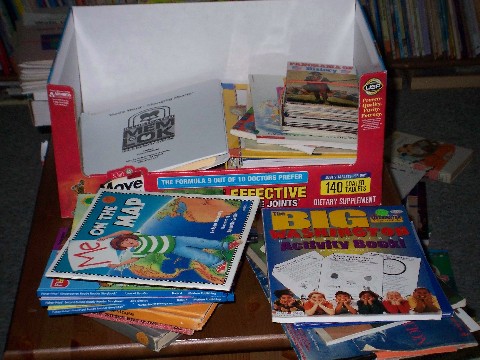 Of course, all of the homeschooling moms out there know that most/half (?) of these treasures will end up unused on my shelf. Sigh.
That doesn't stop the glee of a good bargain and the roving eye of a curriculum junkie. Until next year!!

Kathy
Project 365 – Day 160
Related posts: