As threatened promised last week, we are ready to start our new Tuesday Tips for Parenting. Our desire is to have something to share each Tuesday in the category of parenting. Please come back and visit us each week for further parenting discussion. We love to hear from you, so share your favorite tip in the comments section. Parenting is one of the most difficult and rewarding blessings in life and it is our belief that we can (and should) encourage and build each other up as parents.
As iron sharpens iron, so one man sharpens another. Proverbs 27:17
Tuesday Tip for Parenting – Child Training
If you've ever been at a park where young children play, you've seen this familiar scene play out:
Mom: "Sam, it is time to go!"
Sam: (Ignores his mother, keeps playing.)
Mom: "Sam, I mean it, we have to go, now. Come here, please."
Sam: "I don't want to go!"
Mom: "Yes, I know, but we need to get home to get dinner ready. (Mom's tone is pleading, now.) Daddy is coming home, don't you want to see Daddy?"
Sam: "No, I wanna play."
Mom: (Exasperated.) "Sam, come right now. We have to go."
Sam: (Ignores mom, keeps playing.)
"Catch me, if you can!"
At this point the Mom usually rolls her eyes, abandons the shreds of her dignity, and rushes in to physically apprehend little Sam. Depending on how feisty Sam feels, sometimes he runs from his mother, which is good entertainment for the onlookers, but not so fun for the Mom. These kind of parents have to be pretty spry and often wear high-quality running shoes. Eventually Sam is captured, and is carried, kicking and screaming, from the park. Mom carefully avoids eye contact with anyone.
It helps to have an older brother who can do the running and fetching for you.
As amusing as this can be for spectators, this unnecessary bit of parental grief can be avoided with a tiny bit of preparation, especially if your children are young (18 months – 3 years).

Here's how you do it:
At some point when you have a little leisure time, gather your children together and explain to them that you are establishing a new rule, that when you call them, they are to do two things:
to come running
to call out, "Coming, Mommy (or Daddy)!"
Then find the longest hallway or other unobstructed path in your home, and place them at one end of it. If you have very small children, one parent will need to detain them there at the 'starting line', because they'll get carried away by the fun of the game and they'll come before you call. (While the ability to come before you call would be eminently desirable in children of all ages, it isn't sustainable in the long run without recourse to telepathy or supercomputers with predictive algorithms.)
"You want me to do what??"
You'll want to resist the temptation to place obstacles in the path, at least at first (there's always time to make it interesting, later). Go to the far end of the hallway and establish a 'finish line' by kneeling down and holding out your arms. Remind your child that they are to respond verbally ("Coming, Daddy!") and to run to you. Then call them by name, clearly and loudly.
When they arrive, hug them and praise them, and have them do it again. We found, especially with our younger children, that the excitement of running made it easy for them to forget to say, "Coming, Mommy!", and sometimes we had to physically prevent them from running until they said it. Repeat this process at least five or ten times, hugging and praising each time.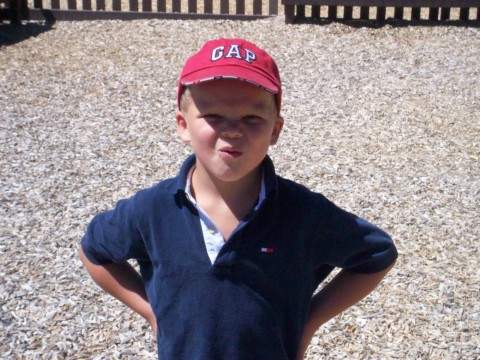 "So when you call, I need to come running. I'll think about it."
If you have older children who are on-board with the program, they can often cheer and encourage the little one who is learning the ropes. Usually at least one of our older kids wants to try it, just because it looks so fun (and everyone likes a hug from their Mom or Dad). Dads will want to brace themselves, since some of the older kids may mischievously try to knock you down. It doesn't hurt to have ice cream afterward.
All five of our children have thoroughly enjoyed this game, and they all know from the earliest age that when we call them, they are to respond immediately, both verbally and by running (or walking quickly) to where we are. Occasionally I sweeten the pot by randomly calling them and giving a treat to whichever child responds first.
"Can I stick out my tongue before I come?"
Some parents don't think it is very important, or particularly desirable, to have their children come when they call. "I don't want my child to be some kind of robot," they'll say. This seems sad to me, considering that in more than one case, training of this kind has literally saved the life of a child about to step into oncoming traffic or some other hazard.
Of all the things we have taught our children, this has been one of the easiest and most satisfying. I must admit, sometimes I show off at parks and other places, just to raise the standard a bit. "Joshua, Rachel, Daniel, David, Sarah!" I'll shout, over my shoulder, as I head for the car. The ones who hear me police up the others, and most of the time they're all waiting breathlessly by the car, by the time I get there, to the amazement of bystanders. It's a good thing, 'cause I'm not so very spry, these days.
Tim
Related posts: