Last weekend I said goodbye to my darling husband, adorable children and set off for the big city. Since we live in the suburbs this doesn't have quite the dramatic flair it could have, say if we still lived out in the country. Ah well, we take our flair where we can, exaggerated if necessary.
I wrote about my search for beauty during the weekend (found it in my feet, of course) but I never blogged about the homeschool conference itself. I thought it was obvious that the conference was just an excuse to go away for the weekend, enjoy some time with an old friend and shop, but I guess I should at least write a little bit about the conference.
I would certainly be remiss if I didn't mention one particular individual I saw at the homeschool conference – Lee Binz. Lee is an amazing woman I first "met" through an online homeschool e-mail group. Last year we visited over coffee with another loopie, Cynthia. My family has learned to accept the fact that a good portion of my "friends" and homeschool buddies are known to me only through cyber space.
I met Cynthia and Lee "in real life" at Starbucks June 2006. Nothing bonds a trio like legally addictive stimulants.
Lee homeschooled her two sons through high school, graduating them both last year. Since then she has developed a consulting business for families homeschooling high schoolers. She offers help with transcripts, scholarship search, general record keeping and assignment scheduling. Her website, The Home Scholar provides more information on these different services.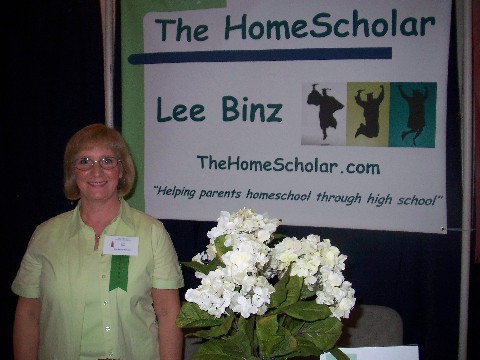 Lee also has a wonderful blog and e-mail newsletter available. Her blog features links to articles, tips, product samples and more. I highly recommend grabbing a cup of coffee (or mocha smoothie) and spending some time reading Lee's blog. You can even listen to a radio interview of Lee and her son from Seattle's KGNW 820 AM.
Lee and her husband had a beautiful table at the conference. They probably had the most stylish and attractive display of any of the vendors. Featured at one corner was a drawing for a lovely (huge) gift basket. At another spot they had small give-aways for the children. Everything was coordinated, the colors bright and fresh. It was a delight to look over all of Lee's materials and talk with her about her business.
Last summer Lee came to my house and directed a course on teaching math through games, using the book, Family Math. She was an accomplished teacher and did a wonderful job. She could easily have led us through another entire workshop. Perhaps next year she will be one of the speakers at the homeschool conference as well as one of the vendors.
It was lovely to see you, Lee!
Kathy
P.S. The rest of the conference was nice too.

Related posts: