We've had a wonderful Thanksgiving. It has been delightful to have a full weekend in which to savor these times, fleeting though they may be. I only wish we had a houseful of cousins, aunts and uncles and far away friends to make the day truly complete.
Our internet connection is slow and sludgy out in the country and I've been having trouble loading my pictures. By the time I grab my email and read a few notes, the evening is half over and I'm exhausted. I'm beginning to suspect I'm not a real person without my high speed internet and the blog. Talk about spoiled.
Now that the weekend is almost over, I've finally managed to load some pictures and found time (amidst the relaxing and loafing) to post a blog. I'm eager to return to my computer and catch up on all the Thanksgiving news. My heart is full of thanksgiving for all the blessings God has bestowed upon our family. My prayers are with our friends and family who are struggling with difficult times and painful losses. My faith and hope are in the Lord.
The LORD will surely comfort Zion and will look with compassion on all her ruins; he will make her deserts like Eden, her wastelands like the garden of the LORD. Joy and gladness will be found in her, thanksgiving and the sound of singing. (Isaiah 51:3)
Highlights of Our Duckabush Thanksgiving Weekend
1. A drama about the first American Thanksgiving starring the Duckabush Players:
Governor Bradford – Joshua (age 14)
Priscilla Alden – Rachel (age 11, 12 next month)
Sarah Alden (daughter of Priscilla) – Sarah (age 5)
Chief Massasoit – Daniel (age 10)
Squanto – David (age 6 1/2)
The actors are waiting in the wings for the play to begin.
Exhausted after their fourth performance, the Duckabush Players pose for a picture.
2. Two turkeys (every proper Thanksgiving has a "Show Turkey"), a ham and at least 10 side dishes.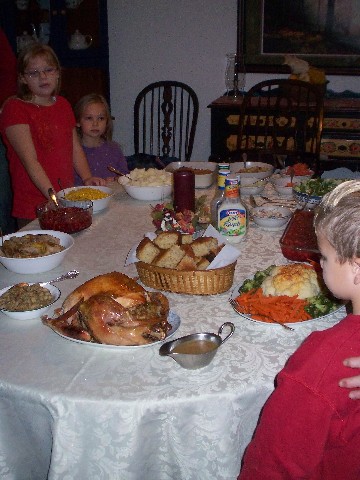 Gathering around the dinner table.
3. Pies, chocolate caramel brownies, and plenty of coffee.
4. Multiple rounds of Bang (aka Who Shot the Sheriff?)
5. Five kernels of popcorn on each plate – Pilgrims sparse meal
6. Working and walking out in the woods, vainly chasing the sun before it disappeared behind the ridge.
Sarah contemplates life in the great outdoors.
David is an excellent worker for Grandpa.
Joshua and Daniel help clear a trail.
7. Visits with friends – playing Scum, talking, passing kids around for sleepovers.
Casey and Teddi Jo model their hat wear from a round of Scum.
Joshua – the Civil War/Bunny Scum player.
Ah, to be Queen for a Day, or even a hand or two.
8. Watching movies
And, of course, lots of leftovers, laughter, and love.
A Blessed Thanksgiving from our family!! Leave a note and share something fun you enjoyed over the weekend: a special tradition, a favorite Thanksgiving recipe, a great holiday movie or book.
Kathy
Project 365 – Days 325-328
Related posts: