To celebrate Rachel's 12th birthday party, we decided to host a Sleepover Extraordinaire. First Rachel invited all over her friends (most of them from large homeschooling families), next I begged the moms to come along ("to keep me sane company"), then we convinced Rachel to let us bring the little sisters as well (that added 3 five year olds to the party), finally we made sure to grab some girls from the old neighborhood.
Yes, all of that meant we needed two vehicles (packed to the ceiling) to take everyone off for the sleepover.
How else do you have a Birthday Extravaganza?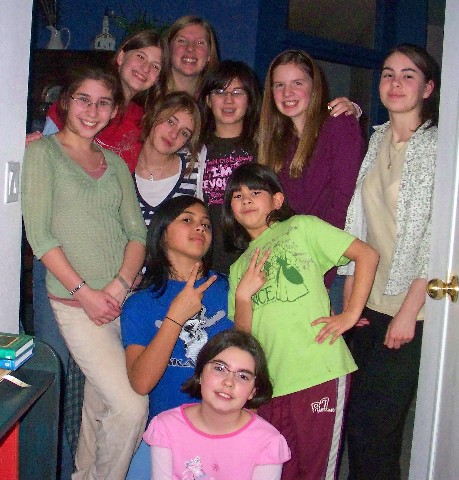 A few of Rachel's nearest and dearest friends – Hannah, Emily, Sarah, Alivia, Bethany, Jenny, Brigette, Katie, Elizabeth and Abby. Leanne had to go home early so she missed all the photo shoots.
We had quite the assortment of entertainment for the party.
Some friends loaned us their karaoke machine (Thanks, Casey!!). It was a huge hit, playing cds at full volume (or so it seemed) while the girls sang along.

The little girls were very intrigued by the Singing Machine.
For her birthday, Rachel received Dance Praise 2 which plays contemporary Christian music and includes dance steps to go along. Thankfully the girls didn't ask me to demonstrate for them.
I'd hate to blow them away with my stunning dancing abilities.
Or scare them.
Or give them nightmares.
Tim's mom gave Rachel an incredible gift for her birthday party. She made nine (yes, I said NINE!!) gingerbread houses, assembled them, and had them all ready and waiting for us upon our arrival.
On Monday morning, she came over with containers of frosting/glue, bags of decorating candy, and instructions on how to create our very own Stunning Gingerbread Homes.
Each family went home with their own gingerbread house, which had the added benefit of encouraging sisters to work together in peace and harmony.
Or at least covered in sugar.
There was even a house for the littlest girls to decorate. And, since I'm a firm believer in more is better, I made sure the last group of younger sisters came over to join Sarah's posse.
It was so kind of Rachel to allow the little sisters to join the party. Sarah had a wonderful time with Ava, Tarah, Abby, Avery, and Elise.
I'm trying not to kick myself for missing the opportunity to take pictures of all the gingerbread houses lined up in a sugary display of yummy confection. It's hard work being the mother, hostess, party organizer, chef, AND photographer.
I did manage to get this picture.

Some creative gingerbread ideas:
A snowman made out of white gumdrops with red scarf.
A pond designed with blue M&M's with a gold fish (M&M) swimming in the middle.
An igloo fashioned out of non-pareils.
A candy cane cross at the top of chimney.
A stone covered chimney made out of chocolate rocks.
And much, much more sugary, gumdrop, chocolate creativity.
I'm not sure the girls slept very much. You can see they look a bit blurry here.
Oh wait, maybe that's the photographer who was a bit blurry. I'm not sure I slept very much either.
A wonderful time was had by all.
1 Birthday Girl
11 Party Girls
6 Little Girls
3 Moms (old girls?)
Thanks to everyone who made it an AWESOME birthday party!!
Kathy
Project 365 – Day 351
Related posts: