Tim and I are eager to hear from our intrepid travelers. Our prayers and thoughts are with them as they arrive in Norway today.
At least we hope they have made it safely through Germany and are on to Norway. We'll know for certain if they ever email to tell us they are safe.
Or alive.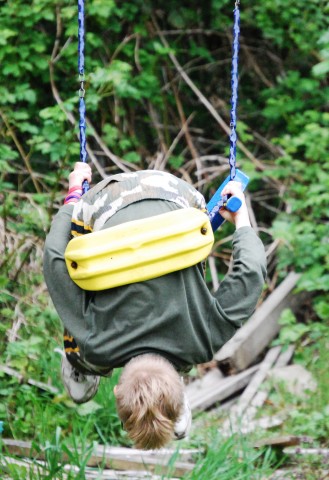 Daniel can't hold still, he's so concerned about his brother and sister.
That's the problem with sending children off on whirl wind adventures, they are too busy experiencing new sights and sounds to connect with the family back at home.
Not that I am fussing.
Or revving up the Guilt Trip Machine.
Nope, I'm having fun imagining the excitement mingled with jet lag fatigue that is surely distracting Joshua and Rachel.
As for us left behind in WA, this is how we are drowning our sorrows. Good old fashioned ice cream therapy.
I hope the children aren't gone too long or we'll all gain 10 pounds in their absence.
Kathy
Related posts: