One recent morning I was faced with a mystery.
There was no chalk outline, and the police did not festoon the area with yellow tape, but it was still deeply perplexing.
(Not that this is saying much; it doesn't take much to perplex me.)
In order to save time (and hot water) in the shower, I habitually shave in the car. Driving the quiet back streets in the early hours of the morning, I use a little battery-powered portable shaver given to me by Kathy's brother (thanks, Phil!) to assist me in my grooming. On this fateful day, I picked up my portable shaver (I keep it in the console of my little silver car) and turned it on, but nothing happened.
"Curses!" I grumbled. Sometimes the AA rechargeable batteries I use, get cold in the car, but usually they have some life in them — enough at least to power the blades so that they grip onto my little chin hairs and yank them painfully instead of cutting them. I cast my memory back — no, the last time I had shaved, the batteries were fine.
Something felt wrong about the shaver — I shook it hopefully and turned it on and off a couple of times, still nothing. I swiveled open the base of the shaver to look at the batteries, thinking perhaps some dust was obstructing the battery terminals, but found instead an empty hole: the batteries were gone.

A shaver without batteries is a sad, lonely sight.
This was very strange. I mostly use my little silver car to commute, and Kathy rarely drives it. There's nobody else of driving age in the house, and nobody else shaves (at least not with my little shaver). Even if Kathy had driven my car to church or some other event, what could possibly have happened to my batteries?

Sarah looks innocent, but could she be the culprit?
At work, I shared my puzzlement. Soon, intrigued by this mystery, the hypotheses began to fly, as my cow-orkers tried their hands as amateur sleuths.
"OK, here's how it played out," suggested my boss. "Some local car thief was looking for valuables or planning to steal a car from the parking lot where you leave your car. He broke into your car, but just then, his Walkman™ ran out of batteries. As everyone knows, car thieves need heavy metal music to encourage them to steal, so he took your batteries as replacement for his own. He didn't leave his dead batteries in your car for fear that there would be fingerprints on them. Just as he was getting ready to steal your car, something scared him off, and he left."

Not an actual head-banging car thief.
I tactfully suggested that my boss not quit his day job to become a detective. Another cow-orker piped up with a competing theory:
"With gas prices what they are, these days, your car's gas tank was targeted for theft. As a professional gas thief, the guy who chose your car has a battery-powered siphon, which chose that moment to run out of power. He noticed the shaver in your console (he'd already broken into your car to open the gas cap cover) and so he took your batteries to run his siphon."
It does seem as though I fill up my car a lot more often than I would like, and with gas prices at an all-time high, it doesn't seem unlikely that gas thieves (even savvy ones with battery-powered siphons) would abound. Still, I've never actually seen a battery-powered siphon — the one I have in my garage (still in its original packaging, for private use only, of course) is powered by a little bulb that you squeeze (or so I've been told). I cast about for another theory. Fortunately, my cow-orkers are an imaginative lot, and work was dull that day:

Turns out there is a battery-powered gas siphon.
"One of your neighbors has a daughter who lost her kitten. Out at night searching for it, he ran out of batteries in the flashlight he was using. Noticing your car was unlocked, he helped himself to your shaver batteries, intending to return them the next day, with an explanation. A few minutes later, he found the kitten in the tree in front of your house, and in the excitement and tearful reunion, forgot to return your batteries. Now that several days have passed, he is too embarrassed to give them back."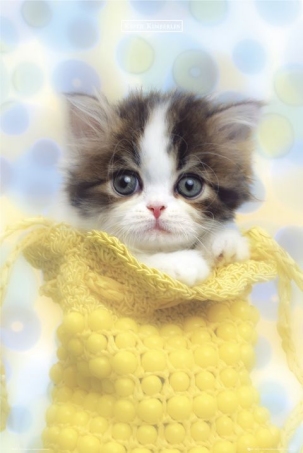 Not my neighbor's actual kitten.
Sometimes I wonder about my colleagues. Kittens, gas and car thieves, what will they think of next? I shouldn't have wondered, as another team member chimed in:
"You people have got it all wrong. What happened, is that special operatives were conducting a sweep for terrorists in Tim's neighborhood, when suddenly they spotted a 'person of interest' to their investigation. As luck would have it, the agent responsible to direct the operation experienced an equipment malfunction (his night-vision goggles ran out of batteries). Assessing the situation and keeping a level head in this emergency, he cannibalized Tim's shaver for batteries in pursuit of this vital mission, as National Security hung in the balance. Neutralizing the suspect, the operative determined that Tim would rather lose two AA rechargeable batteries than be detained indefinitely as a result of knowing too much about this covert operation."

Not an actual covert operative.
Some of my peers watch a little too much TV, I think.
When I got home, I rounded up the usual suspects, and opened a Court of Inquiry.

This boy looks guilty, don't you think?
"OK, come clean. Which of you stole the batteries in the shaver I keep in my little silver car?"
"Not me," chimed several voices, even as my wife and oldest daughter exchanged meaningful glances. The focus of my investigation narrowed.
"What do you think happened to them?" my wife sweetly countered, innocence personified. Sometimes I think she would make a good defense attorney.

Or could it possibly be … Rachel?
I shared a few of the wilder hypotheses that my cow-orkers had invented, while my wife and daughter giggled maniacally.
If you have a theory as to why my batteries were missing, please leave a comment, outlining your theory. I'll send a valuable prize, worth hundreds of Colombian Pesos (COP), to the person who submits the best guess (either closest to reality or most imaginative, whichever seems right to me).
Tim
Related posts: