Today I received an egg in my lunch.
This is a somewhat unusual occurrence. Kathy graciously prepares a lunch for me, whenever I work in the city; she takes very good care of me. Today there was lettuce, but (since I am counting every calorie) there were no croutons. There were also no tomatoes, since we're counting grocery dollars, and we can't quite get back to the idea of paying $3/pound for tomatoes when we used to harvest them for free from the backyard. Ours were better, too.
I don't really like salad, which is why my eyes lit up when I saw the egg.
"I'll crumble up that hard-boiled egg, and put it on my salad," I assured myself. "They will help to absorb the watery salad spritzer dressing, and redeem this salad," I promised myself in a hearty tone.
One should always be wary of people who speak in hearty tones.
I cracked the egg, and realized, belatedly, that the egg was not, in fact, hardboiled. Pandemonium, on a very small scale, ensued.
My co-workers glibly assured me that Kathy did not do this to me on purpose, but I am plagued by doubt. Perhaps it is time to step up the pace of my Christmas shopping for my beloved bride.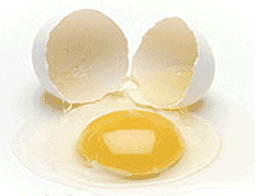 Not my actual egg.
Now that I have been dieting for five (or is it six?) weeks, I've become accustomed to disappointment in food, or at least, disappointment in portion sizes. The amazement ("No way. You mean that is a cup of mashed potatoes? It would hardly take three bites to eat it!") has given way to a numb acceptance of how little, in fact, I need to eat to sustain myself.
Yesterday was a hard day. It started out on the wrong foot, as I recklessly squandered 400 calories on a bagel at Panera's (with two pats of butter). I became over-hungry before lunch, and the feeling of deprivation wouldn't seem to pass. I decided I wanted to devour the world, or at least as much of it as I could comfortably stuff into my mouth. My daily 8:30 pm appointment with the ice cream freezer seemed eons away.
I hate days like that.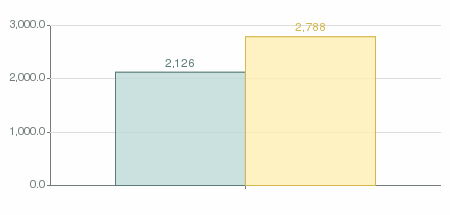 Calories consumed versus calories burned, on average
Late in the afternoon, I remembered my panacea for calorie-poor, appetite-rich days: get some exercise. While I require myself to eat 500 calories less, each day, than I burn, there's no rule that says I can't burn extra calories. Our whole family rushed off to the YMCA, and I 'earned' an extra 600 calories for the evening. While this diet rages, I may find myself much more willing to visit the local Y. Yesterday was a good day for that: I increased my annual visit average by at least 50%.
I can't complain, all evidence to the contrary. I lost another pound this week, bringing me to a total loss of 9 pounds, at least 5 of them legitimate. That puts me on track for my goal of 28 pounds lost by May 20. Some days I feel that I am getting the hang of it, but on others, May 20 seems a long way away. And then there's the question of what I will do in May? Even if I lose the targeted 28 pounds, I'll still be 30 pounds overweight, according to the fiendish weight/height calculator gnomes.


My weight-loss plan.
One six-month-horrific-diet-plan at a time, I guess.
Some ten of you have promised to pray for me, at least 4 times a week; please know that I have been keeping up my end of the bargain, praying for each of you by name, six days a week. I credit the relative ease of this diet and the success I am enjoying, to the work of the Holy Spirit in my life, and I commend you for your continued prayer-work on my behalf.
Maybe if you really pray for me, next time I'm in the city, I'll even get a hard-boiled egg.

Tim
Related posts: