Daniel (age 9) knows how to start the day right–breakfast and a good book.
Tim meets with his men's accountability group at Panera Bread. They used to meet at Starbucks but, as none of the men were particularly coffee drinkers, Panera Bread seemed a better fit. Ha! Occasionally he will bring us home a big container of delicious bagels. The kids have their favorite flavors. Daniel loves Cinnamon Crunch. I'm not sure these are bagels or fancy cookies.
The big news of our day was SNOW!!!! We woke to an inch or so of beautiful, white snow. The kids did their math and then headed outside to play.
All of the children (except for Joshua) have snow pants but we don't really have proper footgear or gloves for snow play. When I ventured outside to take some pictures, Daniel proudly displayed his snow covered gloves.

Would you like shake my hand?
The kids played with friends and had quite the snow fight. It wasn't really a 'snowball fight' as I think the snow was too powdery to be made into anything resembling a ball. It was, however, perfect for throwing or flinging.

That looks cold!!!!
Daniel continues to enjoy his Nathan T. Riggins book. He's almost finished, one chapter left. "If you're doing my school chart, Mom, I wouldn't put down just one chapter a day for my Nathan reading. I read, more like, 3 chapters a day," he said to me this evening. Ah, truly words to warm a homeschooling mother's heart. Thankfully there is another volume, with books four through six, waiting for Daniel on Joshua's shelf. I have to say, once again, that I am absolutely delighted with Daniel's fascination with these books. This year he has enjoyed The Littles Series as well as some of the Magic Tree House books but nothing has quite grabbed his attention and turned him into A Reader like these adventure stories by Stephen Bly.
Rachel and Joshua have recently become Garfield fans, checking them out from the library. Daniel picked up one of the books and laughed and laughed over an interaction between Garfield and his hapless owner, Jon.
He showed it to all of us.

For his Special Day, Daniel chose to play Apples to Apples: Bible Edition. We have the basic version (it's one of Rachel's favorites) and were eager to try out the Bible edition. There was much laughter as we played the game. I won the first game and Tim the second–Parents Trounce Kids! I like this new version–it has the same flavor and feel of the original game but with a Biblical focus/direction. It's not heavy handed. Fun game. Thanks, Posie!!
Daniel requested another game instead of a read-aloud for the end of his Special Day, so four of us stayed at the table to play Castle Keep. Rachel and David ran off to play computer games. Sarah sat with us and worked on a coloring page for a friend.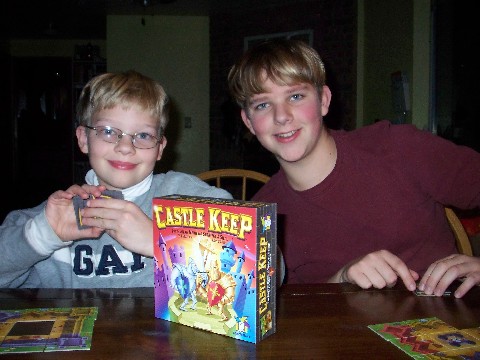 The kids, getting into the swing of things, are helping me with my goal of 'photographing life.' Daniel thought it would be terribly funny and sneaky to take a picture of his game pieces in the middle of play.
I had to try out the self-timer on my camera while we were gathered together. Even without a tripod (we're missing a crucial piece on ours) I can still get some nice family shots.
There were some difficult moments in the day. Daniel did NOT want to finish school. He didn't understand why we couldn't have the entire day off as a 'Snow Day.' The idea that we have a certain amount of work that has to be accomplished in a school year and taking time off doesn't eliminate the work it only prolongs the duration we will be schooling, is not one that he understands easily. I was worried he might lose his Special Day (which would be sad for everyone). Thankfully, he managed to cheer up and complete the rest of his assignments. The day ended on a VERY joyful note.
Kathy
Related posts: