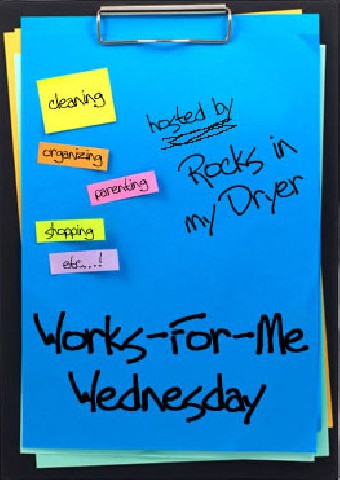 An Oldie but a Goodie – WFMW from the Past!
Being a homeschooling mom is all about the perks – cool office supplies, 1000′s of great books (right there on your very own bookshelves), flexible hours, frequent snack breaks, and, of course, the generous pay.
But the main draw is really the office supplies. Most homeschooling moms I've met have what approaches an obsession with Sharpies, notebooks, binders. Don't even get them started on their printer/copy machine or the best type of #2 pencils (which they buy in bulk).
Every homeschooling family neesd a HUGE, full-size whiteboard.
In my desire to organize and outfit one of my homeschooling rooms, I searched for a large bulletin board and whiteboard. My investigation led to expensive school supply companies, with glossy brochures and slick ads, but nothing within my budget. One day a friend casually mentioned working math problems on her large whiteboard. My ears immediately perked up. It turned out she had a six foot whiteboard in her school room.
"Oh yes, I use it all the time for math and teaching and leaving notes to the children. I would be lost without it. My husband made it for me."
"What?!" I had never heard of a homemade whiteboard much less a six foot one. Doing things on a large scale is just my sort of thing. For example, why buy one bookshelf when you can go to IKEA and pick up seven. Hypothetically speaking, of course. A floor to ceiling whiteboard went right to the top of my Honey Do list.
The instructions were incredibly easy and CHEAP! I couldn't believe I hadn't heard of this before.
1) Go to Home Depot or Lowes and buy a 4 x 8 sheet of whiteboard ($13 to $15).
It's called solid white tileboard (Melamine tile wall panel) used as a tile substitute in bathrooms, sometimes known as showerboard.
2) Measure and cut to appropriate size.
I wanted one that went the full height of the wall so we cut off only a portion on the top, resulting in a 4 x 7 whiteboard.
3) Attach to the wall.
Some instructions say to use panel adhesive to glue it to the wall (this would help to prevent buckling). We didn't take this approach, deciding instead to screw it into the wall at regular intervals (into studs where possible). My father in law visited while Tim was in the middle of installation and graciously helped.
4) Frame new whiteboard with molding.
We decided to use the plastic white molding (didn't want to deal with painting or staining). My dad was in town and offered to help. Really, Tim and I outsourced almost this entire project. That, of course, is a whole 'nother Works for Me Wednesday tip.

Daniel helped Grandad put up the molding. Sarah joined the picture to add some beauty.
There you have it. An affordable GIANT whiteboard. We use it for everything – notes to each other, elaborate maps of imaginary lands, math problems, spelling words, grocery lists, camping/packing reminders, and of course, stick figures.
Not to mention the boys' future plans for an armory out back.
Head over to Rocks In My Dryer for other great Works for Me Wednesday links.
Kathy
Project 365 – Day 226
Related posts: