I love charts and check lists and new organizational tools. I'm not exactly known for my follow through but I begin each new project with a sincere heart. It's the optimistic in me. Well, in an attempt to motivate myself and encourage the family to make some healthier choices, I came up with a new idea for us all to try over the next month or so. I managed to convince Tim to come on board and support the idea. He and I then sat down and brainstormed about my 'little plan' and worked out the finer details.
Rachel logs in some time on the treadmill. You go, girl!
I devised some healthy eating and healthy exercising goals, assigned points and made up a nice chart. I wanted us to have a tangible, easy way to keep track of things. I also wanted to reinforce some basic healthy living principles. In the morning each child (except Sarah) gets a fresh chart. As the day goes along, they keep track of their points.
For fruit, you get one point for a serving of fruit (up to two). Veggies give you one point for the first serving, two points for the second point, three for the third, on up to five (trying to encourage and reward those who go for vegetables). For every 16 oz of water you receive 1 point, up to three points. Thirty minutes of exercise gives you 5 points and 15 minutes of weight training (or a combination of push-ups and sit-ups) gives you 4 points. Exercise has a maximum of two sessions in each category (10 points for cardio and 8 points max for weight training). There are a few people in the family who have a difficulty with portion control so I created a category called measuring. If you eat reasonable portion sizes and measure them out, then you receive 4 points per meal.
All in all there is a possibility of up to 50 points per day. The points are cumulative. Every 50 points gives you a chip (we use poker chips for computer game and movie time). Each chip is worth one dollar.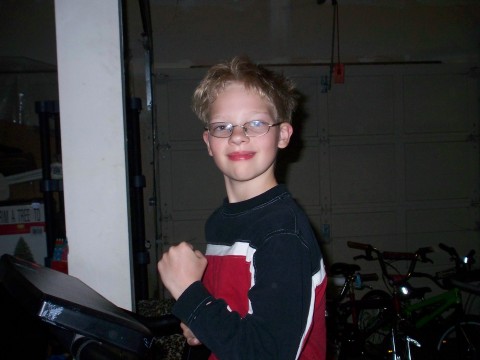 Whew. Does that make sense? Here's a look at the chart.
The children have amazed me in their enthusiasm and excitement about the plan. They are wonderful. They fill out their charts, compete (subtly) for points, and try to get as many of the areas covered in a day. They struggle with meeting the vegetable requirements. Today Daniel walked around saying, "I need to eat more vegetables. What veggies can I eat??" This evening, at 8 pm, he asked me if he could have a salad. I'm definitely going to hit the produce store tomorrow. I wonder if the children would like to help pick out different vegetables. It might help them be willing to try out new foods.
This evening I made a HUGE pan of stir-fried broccoli with brown rice, a few eggs thrown in (going for the whole fried rice thing) and sweet chili sauce. They ate the entire thing!! The zucchini/squash casserole with stuffing didn't go over as well. I thought it was delicious (and I didn't even eat the stuffing part). I'm not sure how well they liked the zucchini loaf casserole either. At least they are trying new things.
Joshua doesn't look exactly thrilled to be getting his picture taken. Is it the camera or the treadmill he'd like to avoid??
I'm a wee bit embarrassed to admit that the children are doing far better than I. They have definitely surpassed me in the exercising and water drinking departments (I probably still have them beat in overall veggies). This evening Rachel, Joshua and Daniel all did 30 minutes (I think Joshua did a whole hour) on the treadmill. Even David (and Sarah to some extent) were using my hand weights and trying to get in their "fifteen minutes." Aren't they awesome!!
Kathy
Related posts: