David has begun the Birthday Countdown. He turns 6 in the middle of February. My goodness!! I tell him almost every day that I really don't think he should be allowed to leave the 5′s behind, that being 5 suits him very well and that he should re-consider. So far he isn't interested in my 'stay five forever' plan.
Look at that face – would YOU let him grow up and turn 6? Surely that silly-pie should stay 5.
Daniel told David he should have a Family Only Birthday Party. I'm not sure why he felt his interference was needed, but perhaps he was looking to avoid a houseful of rambunctious 5 and 6 year olds (and I must say I can't blame him, in fact I might go so far as to join him–ha). Or maybe Daniel is hoping we'll have a fun family outing. One year we went to Odyssey One for Daniel's birthday. We had just moved here and weren't involved in any activities and were not yet well-connected in our church (i.e., the list of birthday invitees was non-existent). We had a wonderful time celebrating Daniel and exploring the adventure center.
Just about every other day David changes his mind about his upcoming birthday – in fact he doesn't seem to remember what he had decided the day before. It's rather funny.
"Mom," he said to me yesterday, "I need to tell you who I want to invite to my birthday party."
I interrupt his litany of names. "David, I thought you were going to have a family party this year."
"Oh, that's right," he shakes his head. "Let's see, I think I want to do something fun for my party. What are you going to buy me?"
He definitely makes us laugh. Rachel and I were watching some little home video snippets (from my digital camera) last night and at one point Rachel said that I should video-record David all the time because he's so hilarious.
David didn't get his Special Day with Tim today, so he decided to use some of his evening time playing Age of Empires. He certainly knows how to ham it up for the camera.
Rachel went upstairs to David's room with the instructions to take pictures of David with some of his favorite toys. This is one of the pictures she took.
We had a visitor join us for dinner tonight. I love some of the blessings that having guests brings, in particular the opportunity to try out new recipes and the excuse to tidy up the house. Of course, that does raise some questions such as: "Why would you clean up for company and not your own family?", or "Shouldn't you try new, creative menus for those whom you love best?" Hmmm. Since the children are called on to do most of the cleaning, they would probably shout "No! Leave the house messy!" I'm not sure they are completely unbiased in this regard. Tim really prefers a 'tried and true' menu so he wouldn't necessarily vote in favor of new, "interesting" recipes (read: could contain strange vegetables and spices). Joshua, being a hungry 13 year old, votes in favor of food and lots of it; if Mom need some creativity in order to be interested in cooking more, he will go along happily.
Here Tim and Carl try to figure out the secret ingredient in the creamed spinach.
Nutmeg was the hidden spice in the spinach.
David sat next to Carl and found himself suddenly shy, but still ready to smile for the camera.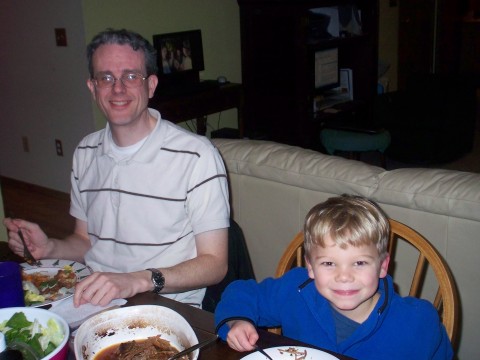 Thanks for joining us, Carl. As always, it was lovely to have you.
Tim has a pile-up of Special Days to do this weekend. I believe, so far, only Rachel has had her Special Day – lucky girl, I wonder how she managed to sneak hers in? Joshua, Daniel, and now David have all been moved to Saturday. How fun – that means we'll be playing lots of games this weekend. Joshua wants to try out one of our new, complicated ones. I don't know what Daniel and David will choose. David likes to have one on one time with Tim so he'll do his best to find a time when everyone else is busy.
Maybe they'll work on the plans for David's birthday party. Lol!
Kathy
Related posts: