There are so many things I want my children to learn – how to study and do well in school; how to cook, clean, and help run a household; how to budget their money; how to be honest, responsible and hard-working; how to care for other people, and on and on and on (I doubt the list has an end). As a mother and follower of Christ, however, my intentions and hopes for them are more focused. One of my greatest desires is that my children study and memorize the Word of God.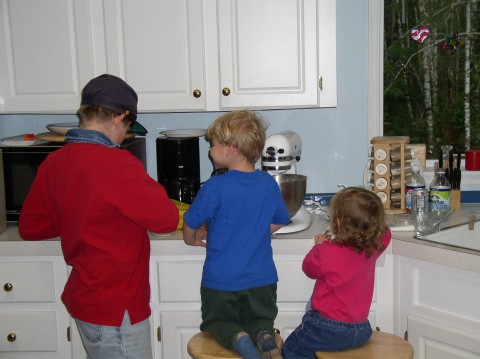 Joshua and his little cooking assistants, David and Sarah, tackle a big baking project in 2004.

Notice Sarah's "picture posing smile."
Give a child a cookie and they'll be hungry in an hour. Give a child a SPATULA and they'll never lack for cookies. Ancient Duckabush proverb.
Years ago my mother gave us a set of Steve Green's Hide Em In Your Heart scripture cds. I immediately copied them onto cassette tapes so we could play them in the van. This was before cars routinely came with cd players. Oh wait, we STILL don't have a cd player in the van. Let's not go there. How long since we abandoned the 8 track and upgraded to cassette? We can't rush right to cds and mp3s. These shifts in technology take time and adjustment.
There are two Hide Em' In Your Heart volumes, both of which have been made into DVD's as well. We loved these cds and played them constantly in the house and car. To this day, if you begin a song or verse from those two cds, my older children can belt out the finish.
Unfortunately Steve Green only made two albums and eventually a person does grow weary of listening to the same music over and over. I never did understand why he didn't continue with the series – ran out of verses, lost his voice, got in copyright issues with the source of his songs??
Wow, it's 2003 and Sarah is already doing First Grade Math! She's obviously a child progeny (as Calvin would say).
I'm sure Daniel really appreciated Sarah helping him with his math.
Last year I stumbled across some amazing Bible memory cds (probably heard about them on the SHS loop, the source of treasures too many to enumerate). I listened to sample songs on Christianbook.com and was so taken with them that I immediately bought all four of the cds (I never was one for just window shopping). These Family Worship cd's, Seeds of Purpose, Seeds of Faith, Seeds of Courage, and Seeds of Praise are truly outstanding. I highly recommend them. If you don't have young children, buy them for your friends or grandchildren. Find the Christian Director at your church and give him/her a set. Drop hints with relatives who buy for your children. Put them on your Amazon gift list. Borrow a friend's child so you have an excuse to listen to the music yourself.
The songs are energetic, fun, and worshipful. The lyrics come from God's true Word. The music varies from lively to moving but best of all it sounds like real 'praise music,' not kids music, but it's praise music that is solely scripture. How powerful is that? The songs are performed by grownups (with occasional help given by children) and have a contemporary feel to them. On the CBD page, the cds come with this comment:
WARNING: This package contains songs that may result in the listener unintentionally MEMORIZING SCRIPTURE. Furthermore, those who learn these words may find themselves inexplicable recalling and/or applying them to real-life situations, as the Holy Spirit leads. USE WITH CAUTION.
Summer 2006 – Samuel gets a good grip on Daniel while David smiles on. These boys obviously need some good Bible music!
More and more I find myself playing the Seeds Praise Mix (as it's called on my computer) on days when we have busy (i.e. stressful) mornings. On Sundays, in particular, everyone is rushed and a bit harried. It's difficult (especially when both parents are NIGHT OWLS) getting a large family fed, dressed and out the door in time for Sunday school. Being on time is NOT something I do well as my children will gladly tell you.
On such mornings, I put on the Seeds Mix. With the music blasting and the Word of God filling the house, a new spirit of cheer and praise fills our hearts. It is remarkable how something so small can evoke such a dramatic change.
Rebecca favors classical music but might let Rachel and Sarah talk her into some songs from Seeds of Faith.
Listen to the clips and see if you agree. I separated out the links so you can reach each album easily. We've been listening to the collection quite a bit over the past two days and the children are rapidly picking favorites. This does lead to a bit of conflict when one child sneaks up to change the song while another child's song is still playing. Is there something a bit odd about children fighting over what Bible song to listen to? Ah, these rascals will find something to fight over if it kills them (or is that the point?) Let's see if they can resist the power of God's Word reflected in these songs ("Do Everything in Love" comes to mind).
Note: these are NOT hymns. My children love hymns (Daniel and Joshua in particular) but they do NOT enjoy cds of children's choirs performing hymns. I haven't been able to find a decent collection of hymns aimed more for children. Still looking. If you know of a treasure I'm missing, please pass the info along!
As the Psalmist wrote:
Praise the LORD with the harp; make music to him on the ten-stringed lyre.
Sing to him a new song; play skillfully, and shout for joy.
For the word of the LORD is right and true; he is faithful in all he does. Psalm 33:2-4
Kathy
Related posts: