So many pictures, so little time to blog. These posts will be frightfully out of order, I'm afraid. Ah, we do the best we can.
Thursday we drove to Lake Michigan, picking up the groom on the way.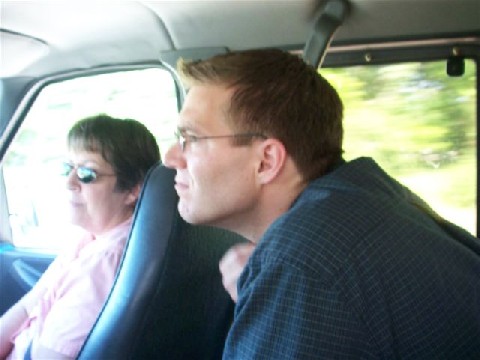 What is Phil thinking? Deep groom-like thoughts?
It was an unexpected gift to have some uninterrupted time with Philip. Okay, there were 5 children in the van so it was hardly a quiet drive. We managed to get a smile out of Phil.
Just mention Emily and Phil lights up.
That evening Aunt Kate (my mom's twin sister), Uncle Jerry (Kate's dh), and Aunt Stephanie (my mom's older sister) all flew in. We also met up with my brother Thom and Doug, a good friend of the family. We all went out to dinner. "Thank you, Aunt Stephanie, for a delicious meal!!!"
Phil and Doug
The next day we played in the sand and enjoyed our new digs. It's certainly different being the family of the groom (ie sit around and relax all day, show up at the appointed time) versus the bride (decorate the reception hall, teach breathing techniques to the bride and bridesmaids, tie up little bundles of sweets for the reception tables, panic over last minute details, etc). I certainly don't remember any time to relax on the weekend of my wedding. Maybe that's just because I was the bride. I'm sure my brothers weren't fretting and stressing during that time. Now that I think about it, they were probably sitting around relaxing and waiting until it was time to show up for the wedding. Hmmm.
Far be it for me to imply that the activities surrounding the wedding are boring but look at these little guys.
I think the playing and relaxing at the beach wore David and Chaseton out.
The rehearsal dinner was delicious. We filled up three long tables with family and friends. I met Emily's mother and aunt. She has a lovely family. The kids are so excited to have a new aunt. They adore Jenn (Thom's wife) and figure Emily will surely be as wonderful.
The girls – Kathy, Emily, Rachel, Tahlia, Sarah and Aydia – pose for a picture.
Phil was a gracious host and went around, speaking to all of the well-wishers. We, of course, snagged him for a picture.
Chase grabs Phil for a hug while Mom and Dan smile pretty.
More details to follow. It has been a lovely, lovely vacation and the wedding was perfect!
Kathy
Project 365 – Days 172 & 173
Related posts: