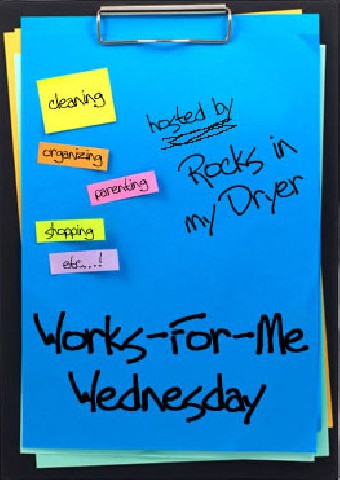 It's that time of the week again – Works for Me Wednesday!! I know, you've been waiting in eager anticipation for the latest hint, tip, or clever pointer from the Duckabush Blog. Well, we aim to please so this week's topic is … laundry.
True, there might be more exciting areas of life, more spiritual and interesting ones but, really, laundry is the core of every home. Without a smooth-running system for laundry, chaos and naked children abound. Laundry is an undeniable aspect of life. What to do when faced with such a substantial burden? Outsource it, of course. Isn't that why we have children? I have worked hard to train my older three in the sophisticated nuances of laundering and, as long as I don't look too closely, I am very pleased with their work.
Sarah and David can haul laundry up and down stairs, empty the dryer, sort clothes and even pair (notice I didn't say 'match') socks.
When the kids are hard pressed for cash, I will pay them 50 cents for doing laundry. They are required to 1) empty the dryer and sort the clean clothes; 2) transfer the wet clothes to the dryer; and 3) begin another load. I figure that's worth some money if only because it allows me to sit down and blog instead of squandering the time washing clothes for the ungrateful masses.
Daniel's latest quest for cash resulted in him washing all the sleeping bags. So he did three WITHOUT any laundry soap, do you really need soap these days? Um. Yes, please.
I have a fairly small laundry room and, with seven people in the family, laundry is a constant, never-ending chore. My husband came up with a brilliant idea for helping me organize and process laundry. He went to IKEA and bought me an Expedit, a backless bookcase with 16 square cubicles.
The idea was to have a shelving system where each person in the family could have their own laundry 'cubby'. The rest of the shelves could be used for linens, games or misc storage. During the design process we tweaked things further. I have two hampers in the laundry room – one for lights and one for darks. I wanted these two baskets to remain in the room so I needed to find a way to prop the Expedit off the ground. Again the creative team of Tim and Grandad went to work. They came up with the idea of placing the entire shelf on top of two file cabinets. Now we had shelving, hampers, AND filing storage. Brilliant!
And the cubbies always look this neat and tidy. You believe me, right.
As with my whiteboard, an important aspect of the project was ensuring my father was in town and available for some manual labor. Tim was the creative designer and financier behind the entire scheme. My dad served as the general contractor and all around craftsman — what a great team. The kids put on a movie and Grandad assembled shelves and filing cabinets and then secured everything to the wall.
It is wonderful to have such a handy father.
Now I have this wonderful laundry organizer. When clothes are dry they go straight from the dryer to the appropriate cubicle (folding, I must admit, is optional). If I'm short on time and washing several loads in quick succession, a basket near the dryer might fill up with clean clothes, but my couch and chairs and family room floor are NEVER covered with piles and piles of laundry. It's a miracle! The laundry strike can end now.
Today, in honor of this post, I made labels for each of the cubbies. Note hampers and filing cabinets underneath shelf. Seriously organized!!
Head on over to Rocks in My Dryer for further Works for Me Wednesday links.
Some other Duckabush WFMW Posts
Giant Whiteboard
Travel Outfits
Join us for our Tuesday Tips for Parenting
Calling Your Child
Creative Use for the Timer
First Time Obedience
Kathy
Project 365 – Day 233
Related posts: