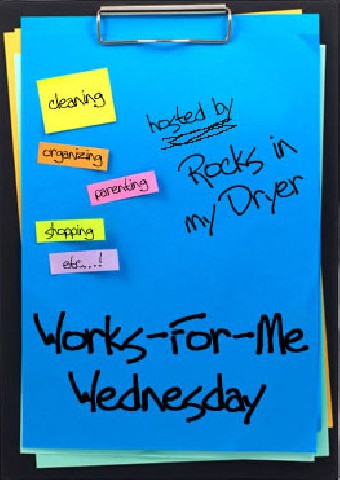 School is back in session so what better topic for this week's Works for Me Wednesday than a collection of a few of our favorite homeschooling books, programs, and curricula.
Homeschooling Tried and True Favorites
Horizons Math — this is a math that we have loved and used it for years with all of the children. It's colorful, advanced paced, and published by a Christian company.
Start Write — this is a great handwriting computer program that lets you create custom handwriting sheets using a wide variety of styles including cursive, manuscript, Italic, D'Nealian, Handwriting Without Tears, Palmer, New South Wales (NSW), Queensland (QLD), and Victorian (VIC). I use this for thank you notes, letters, general practice sheets, and more.
A six year old's letter is more colorful than your average note.
Sonlight — Sonlight has been the core of our homeschooling curriculum for seven years. It is a literature based program that brings history to life and makes learning a true adventure. Sonlight's packages include all the books needed for a year's worth of history, Bible and literature, as well as detailed instruction guides. We are very loyal Sonlight fans.
CQLA — Character Quality Language Arts is a relatively new homeschooling discovery. We have used many different language arts programs over the years. This is the first one that we have found that integrates copying, vocabulary, spelling, grammar, composition, creative writing, poetry, and dictation all in one consumable workbook. I love the way each week's study centers around a godly character trait.
Art AND letter recognition!
Rainbow Science — this is a serious, two-year, total science curriculum for junior high students. Joshua loves the conversational tone and humor that are interspersed among the science lessons. As he said to me today, "It's not every science book that opens up with the word 'Yowie!'" The first year covers physics and chemistry, and the second year covers biology and applications of science. The curriculum and the Home Laboratories are completely self-contained. It has been an excellent fit for Joshua.
Math U See — I have found, over the years, that there occasionally comes a time in children's education when they need a different approach in their math studies. Perhaps they are stuck on a difficult concept or frustrated and bored with the current curriculum. At that point it has been tremendously helpful to take a break from Horizons math and try something new. Most often this has meant spending some time using Math U See. This hands on, manipulative based curriculum, complete with DVD teaching, is wonderful. The three older children have all worked through various Math U See levels, brushing up on old concepts, polishing existing skills and learning new strategies for understanding math concepts.. Even Sarah and David enjoy playing with the manipulatives (we don't tell them they're doing school).

Teaching Textbooks — Horizons math is an elementary program (meaning it ends after the 6th grade – sniff, sniff) so at that point it's necessary we select another math curriculum. I have decided on Teaching Textbooks for the more advanced math levels. Joshua worked his way rapidly through pre-Algebra and is now part-way through Algebra 1. The lectures are featured in the textbook as well as on DVD. The wonderful part about Teaching Textbooks is that every single problem is worked out on DVD (step by step).
These school cubbies hold some of our current workbooks. It's taking me a while to finish kindergarten but I hope to be done soon.:)
Explode the Code — these are HUGE favorites in our family. They are simple phonics workbooks containing exercises on reading, writing, matching and copying. My children love them and are always sad when they come to the end of the series.
This is by no means an exhaustive list of our homeschooling favorites. I didn't see the note about this week's Works for Me Wednesday theme being "Brand Loyalty" until 9 pm this evening. Up until that point I was working on a great WFMW blog on marriage and some specific ways to show respect to your husband. You'll have to come back next week for that helpful post.

Hopefully I will have time to write further about the different Bible study and devotional books we have devoured over the years as well as reading programs, geography studies, art and more that have been family treasures.
Please leave a comment and share your favorite homeschooling programs or books. I LOVE hearing what other families are using and enjoying.
Thanks!
Kathy
Project 365 – Day 247
Head on over to Rocks in My Dryer for further Works for Me Wednesday links.
Some other Duckabush WFMW Posts
TopBlogSites
Laundry Organizer
Giant Whiteboard
Travel Outfits
Join us for our Tuesday Tips for Parenting
Calling Your Child
Creative Use for the Timer
First Time Obedience
Sermon Notes
Thorough Job
Related posts: