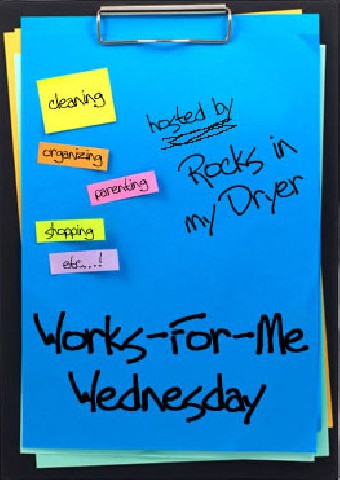 It's fall and time for cool days, slippers and snuggly quilts. As the weather turns grey and rainy (Fall in the pacific northwest is pretty much grey and rainy) I find myself stocking up on boxes of tea in all flavors and assortments.
However, this being coffee land (the Coffee Belt?), I thought I would discuss coffee for this week's Works for Me Wednesday. If you hate coffee and are strictly a tea drinker, please don't leave, scroll to the bottom and leave a comment about your favorite type of tea.
Before I moved to Washington I had only a passing interest in coffee. I enjoyed it occasionally, not caring much about roasts, brands, or mode of brewing. I drank it mostly at work, although I should say we used to have a great brewing equipment (check out this homepage  for the equipment provider).
For five years we lived out in Washington's beautiful rainforest territory, 30 minutes to an hour from the nearest grocery stores or shopping centers. Lets just say there wasn't a Starbucks around the corner. During that time I perfected a Poor Man's Mocha:
Mug of hot coffee
Package of hot cocoa
I developed quite the repertoire of fancy add in's:
Cool Whip or Reddi Whip
Flavored Creamer (chocolate raspberry was a favorite)
Chocolate dipped spoons (a homemade Christmas treat)
After we left the country and moved to the city, okay the suburbs, I began to frequent coffee stands and Starbucks. An addiction was quickly formed. To make things worse, my friend (and neighbor) Julee, was on a first name basis with some of the baristas at the drive thru coffee place down the street.
"Kathy, I'm heading out for coffee, you want anything?"
I mean, how could I resist that kind of intense peer pressure?
It turns out coffee is not only addictive but a bit expensive as a weekly (daily?) habit. After spending more money than I wish to admit, I decided it was time to find a homemade solution to my favorite drinks. At this point I was off sugar so I wasn't interested in mochas or frappacinos, I just wanted to be able to make an excellent Brevé or Americano. I wanted to do so, however, without paying hundreds of dollars on a fancy Espresso machine.
I did some extensive research online (where else) and came up with a plan for the perfect coffee to suit my tastes. While no where near an expert, I can finally make a delicious coffee drink right at home that rivals any coffee stand.
Necessary equipment/ingredients:
French Press coffee maker
Aerolatte Milk Frother
Good quality coffee
Milk
That's it. A French Press is only $20 or $25 at Target or Amazon. The Aerolatte can be found at Amazon or Bed, Bath and Beyond. I buy Starbucks coffee at Target and San Francisco Bay coffee beans at Costco. I was using strictly Starbucks but a friend recommended the French Roast by San Francisco Bay so I decided to try it. I mix regular and decaf together.
I make the coffee in my French Press – stronger than you would almost think is drinkable.

Probably double the normal amount. In the microwave I heat up 2% milk (1/2 to 3/4 cup) for a minute. I like my coffee rich so I use 2%, you could easily substitute nonfat. Once the milk is heated, I use the milk frother to frappe the milk until it is nice and foamy. I pour a cup or cup and a half of coffee into my Starbucks travel mug (which is amazing and keeps my coffee hot for hours and hours), add a little bit of sweetener, and then mix in the frothy milk.
Yum! I now have a delicious coffee drink made right there at home. If I wanted a mocha flavored drink, I would probably add some coffee syrup (easily obtained at the grocery store), Hershey's syrup or use flavored creamer.
What's your favorite coffee drink? If you don't drink coffee, do you prefer tea? What kinds? My family LOVES tea and has been known to linger in front of the tea selection at the store, discussing possible blends with great passion.

Pop by Works for Me Wednesday for other tips and ideas.
Kathy
Project 365 – Day 282
Related posts: