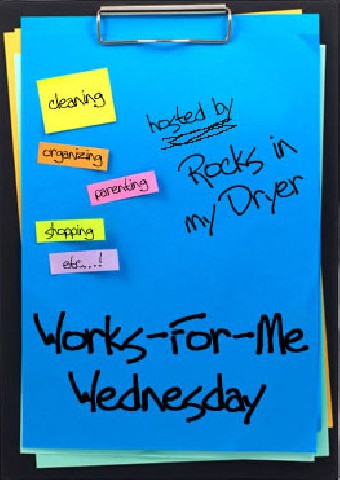 After a rather serious (controversial?) parenting tip on tv viewing and a silly post on Socktoberfest, I thought it was time to get practical. How handy that Works for Me Wednesday has arrived.
I am a night owl, no question about it. It not that I don't like to sleep, but I have sleep apnea for which I am using a CPAP machine, so sleeping is quite difficult. I've found, however, that I can't efficiently run my household or homeschool the children without starting a little earlier in the day. Sigh. These are the great tragedies of life.

Needless to say, sleep is VERY important to me.
In peace I will both lie down and sleep; for you alone, O Lord, make me dwell in safety. Psalm 4:8
Tim and I have been blessed with children who are fairly good sleepers, and we do our best to train them to that end. Over the years we stumbled upon a little secret that has helped the entire family sleep better.
A small table fan. Amazon.com and Bed, Bath & Beyond both sell a version for $10 to $15. These little appliances have turned out to be real treasures.
Don't look too closely or you will see the dust gathering on the edges of Joshua's fan.
We originally bought these fans to help with the summer heat. Western Washington doesn't dole out the kind of summer temps that other parts of the country face, but we do occasionally have warm (even, dare I say it, mildly hot) summers. We quickly discovered that the fans provided an additional benefit — sound proofing. This was especially nice with a baby in the family, whose naps we were usually desperate to safeguard. We immediately rushed out to buy one for each bedroom.
The girls have a cute, brightly colored fan from Wal-Mart.
Now Tim and I can enjoy a movie in the evening, have a "grown up" conversation, or just play our music loudly without worrying we are disturbing the children's sleep. Even more significantly, on the rare opportunity we have to sleep in (the occasional Saturday or holiday) we can do so peacefully with the white noise of our fan muffling the scampering feet of happy children.
I heartily recommend these table fans as a compliment to any room's decor.
The girls mime a little fan dance for the camera.
Pop by Works for Me Wednesday for other tips and ideas.
Kathy
Project 365 – Day 289
Duckabush Blog Works for Me Wednesday entries.
Several weeks of Tuesday Parenting Tips.
Related posts: