The blog is having an identity crisis. I've got blogger's block. I'm not sure what to write, when to write it, and just plain what the focus of the blog should be. Last night I lay in bed thinking of a story called The Little Blog that Could. That train of thought led me down the path to a whole new world of children's fiction. A special collection came to mind …
Good Night, Little Blog
Curious Blog
Where the Wild Blogs Are
The Terrible, Horrible, No Good Blog
Goldilocks and the Three Blogs

I could go on.
Maybe not.
This daring duo is coming for a visit this weekend. They look like trouble to me, but I think Sarah will be safe with them.
Tim's parents took the children, all five, home with them on Sunday afternoon. They didn't bring them back until this afternoon.
Reflect on that for just a moment. All five children off with the grandparents. In the middle of the month. No holiday or vacation planned, just a little break for the teacher.
"I like to think of it as preventive care for your mom," Tim told the children. "You know, so we don't have to check her into the Whispering Pines Home for Homeschooling Mothers."
Calvin surely drove his mother crazy over the years.
I must admit, it was glorious! Sunday was busy with small group, but Monday was quiet and relaxing. Tim worked from home while I sat nearby finishing up my Bible study, reading online, and not taking care of any children. By the time 2 pm rolled around I had successfully wasted a good portion of the day. Tim took me to Starbucks and treated me to a coffee. That's surely a date in my book! In the afternoon I went to yoga at the Y. Afterward I decided to be a complete rebel and SKIP Bible study to spend the evening with my husband.
Alone.
My plan was to use some of the time over these days praying about priorities and general life focus; the blog in particular has been on my mind.
Tuesday, however, I was completely overwhelmed with the urge to clean the house. Before I knew it, I had spent nearly the entire day cleaning. I couldn't help it. The sun was shining and Tim was off working. No children, responsibilities or husband to distract me. I worked and worked. It was as wonderful to accomplish things around the house on Tuesday as it was to NOT do anything on Monday.
There's only so much relaxing a girl can handle. Just being alone was a gift.
It all ended this afternoon.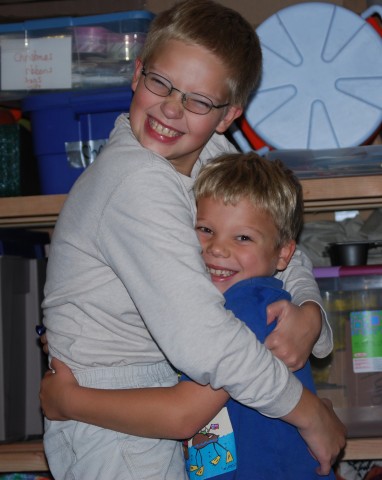 We're Home! We're Home!
Swoosh, in one big rush the kids returned, complete with suitcases, dirty laundry, school books, and lots of energy. After some lunch, snacks, school work, and dinner, the house was restored to its previous messy glory.
Frankly, life was a little boring without all these sweet little ones (and not so little) that I love.
Welcome home, guys!
Kathy
P.S. I never did spend any time in deep thought or prayer over the blog so the identity crisis rages on.
Related posts: