Another day, another picture, another child. And so it goes. Do I sound weary? Lol. I'm thoroughly enjoying this blogging – nice to have a renewed purpose in my writing.
Not content with just one photography lesson, I decided to see if there were any library books that deal more specifically with digital camera photography. Ta da! There were at least 90 titles in the library catalog. Hooray! There was nothing to do but reserve as many as looked interesting.
The kids will tell you (with deep groans) that this is a very typical pattern for me. We hit an intriguing topic in school and I will stop everything to spend hours on the computer tracking down and reserving every possible title. I LOVE the library online system. It's like shopping without the cost!!! That is until you lose books or forget due dates and end up with fines. Sigh. That's the only drawback about using the library as a primary source of reference material. Thankfully the fines are going to a good cause (at least that's what I tell myself–and my dear dh).
On to the subject at hand–Daniel!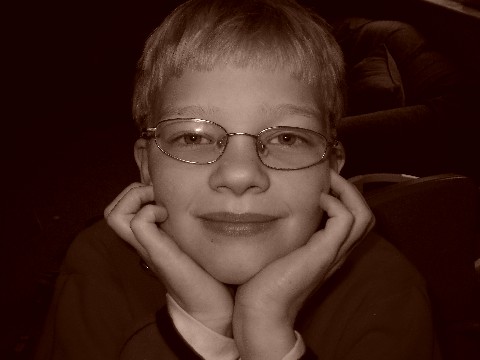 Daniel, age 9, is a (young) man of action. He loves to wrestle, ride bikes, run, rollerblade, anything that involves movement. His motto seems to be, Why walk when you can run and get there (and back) faster? This book, however, has totally and completely captivated him.
I bought this series,
by Stephen Bly, for Joshua years ago. Rachel read them and thoroughly enjoyed them as well. Daniel is growing in his reading ability and interest so Joshua is working to supply him with books. Daniel recently finished Castle in the Attic and its sequel, Battle for the Castle. Joshua is planning to start him on the Indian in the Cupboard series next (isn't it nice to have an older brother to 'help' you along).
Daniel spent a good bit of time on the stairs reading his book after lunch. I'm not sure that I would choose that spot as a comfy reading nook but he did look cozy and I got several nice pictures of him.

Tim and I come from a long line of avid readers so it warms our heart to see our children develop a love of reading.
Kathy
Related posts: