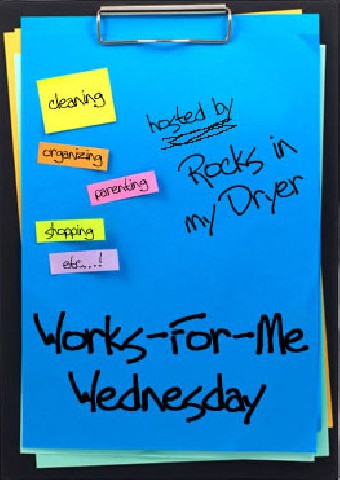 It's backwards day at Rocks in My Dryer. Instead of sharing a tip or helpful pointer, we're supposed to ask a question. The readers provide the advice. Visit
Works for Me Wednesday to see if you can help some other poor bloggers.
I can barely think where to start, I have so many questions and areas in which I need help.
Menu Planning – I'm terrible at it. I never seem to get my act together. I copy down recipes, circle amazing dishes in my Taste of Home magazine and then end up making the same old boring dishes.
Chore Organization – again, a disaster for me. I'm great at handing out candy bribes and convincing the children to clean the house for me, but don't have a system for keeping up with the regular chores.
If you have any advice or wisdom for me, please, please, please share it!! Point me to links, blogs, articles, magazines. I'll take any and all advice. Do I sound pitiful enough?
Since Tim and I share this blog, I asked him what question he would like posed for the Works for Me Wednesday request. Here is his inquiry:
Loving Your Children – How do you show your children you love them? What is the most effective way you've been able to communicate love to them? Share specific examples!!
Of course, there's always expressing love through hiking.
Thank you! I can already tell this post is going to yield all sorts of amazing responses and we will become a totally organized, well-fed and loving family in no time.

Kathy
Some other Duckabush WFMW Posts
Join us for our Tuesday Tips for Parenting
Related posts: