Anyone recognize this fruit? I had never bought one before but Costco had them for such a great price, I couldn't resist.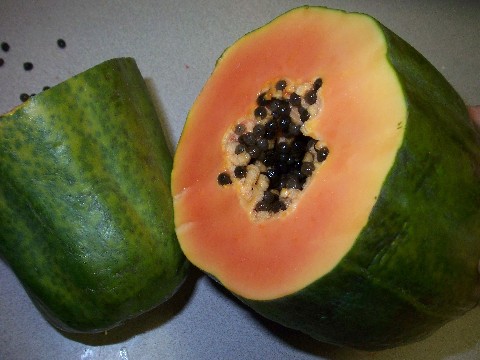 The children, always open and eager to try new foods (ha!), were SHOCKED to see the seeds inside. How can they know what fish eggs look like? Really, I have to wonder what kind of science they are taking at their school.
None of the children liked the fruit at all. Joshua said it was too much like cantaloupe (and this is bad how?) and rejected even his small little bite. Daniel and David, who both LIKE cantaloupe , weren't impressed either. Hmmm. I think this is one of those cases where you just keep presenting a new food until it's not 'new' any more. Theoretically that works for picky eaters. I'll have to ask my sister-in-law (who has a picky eater or two in the family) to report on that theory. Eliz, any thoughts?
Needless to say, I made up a fruit smoothie this evening (including this mystery fruit, banana, frozen blueberries, milk and honey) and all the children loved it (except for that cantaloupe hater, Joshua).
I know some people have smoothies on a regular/daily basis. We fix fruit blends more in the summer when it's warm. Hard to really cozy up to a glass of iced drink when it's grey and cold outside. Still, what a great snack – sweet and healthy – I may need to get back in the habit.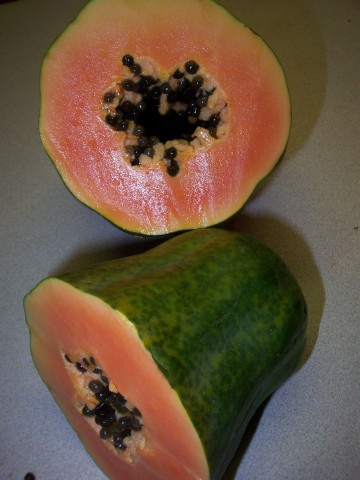 Kathy
Related posts: