Today is David's Special Day! After school we met Tim at the Y for swim lessons and some family wallyball. David is improving by leaps and bounds in his serving. I will try to bring my camera with me next week to see if I can capture his athletic prowess on film.
David is a whimsical, funny, incredibly grateful five year old (six in February, gasp!) boy. He will thank you over and over (and over and over) for a special gift.
For Christmas he received a blue sweatshirt and walkie talkie watch. These two items have become some of his most favorite gifts. I think he has worn both of them every day this week. Joshua said David saw his green watch on the shelf (that hasn't worked for years) and told Joshua, "Oh, I've always wanted a watch!" That same day we opened a few more presents, one of which happened to be a pair of walkie talkie watches for David and Daniel. David was absolutely thrilled. Isn't it precious when you get to see a (sometimes secret) delight of your child's heart met.
In Matthew Jesus said, Which of you, if his son asks for bread, will give him a stone? Or if he asks for a fish, will give him a snake? If you, then, though you are evil, know how to give good gifts to your children, how much more will your Father in heaven give good gifts to those who ask him! Matthew 7:9-11
David's cheerful, grateful spirit often brings tears to my eyes and convicts me of my own attitude toward the Lord and all the good things He gives me. At one point David told me that he had gotten everything he "absolutely, totally" wanted for Christmas. What an amazing outlook. I know that he is young and much of his manner comes from his youthful innocence but my prayer for David is that he would continue to grow in the grace that God has bestowed upon him and remain an appreciative, thankful, enthusiastic individual.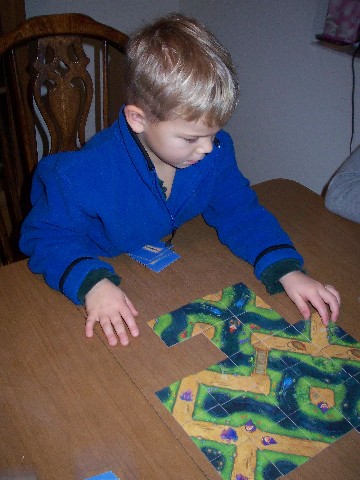 David loves to play games. For his Special Day he chose The Legend of Landlock. This is another one of our new games from Christmas. Joshua advised as David and Tim played and helped lead David to a rousing victory. Ha!
Whether it be computer games, board games, scooter or bike rides, David is NOT one to be left behind. He does his very best to keep up with the big kids. Sometimes he gets frustrated but he most often picks himself back up and starts off again. He is a light and joy in our family.
Kathy
Related posts: